Democracy Now! on Garzón rallies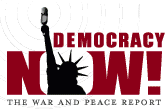 Amy Goodman–recipient of the First ALBA Activist Award this coming Sunday, May 2, in New York (tickets still available!)–reports:
Rallies were held around the world this weekend to support a leading human rights judge facing trial in Spain. Baltasar Garzón is accused of overreaching his authority in a probe of human rights abuses during the Spanish Civil War and the Franco regime. Garzón is known worldwide for taking on international human rights cases.
Watch or listen to the whole segment here.