Progress On Honoring Those Who Served in Spain On Memorial Day by Raymond Hoff and Nancy Phillips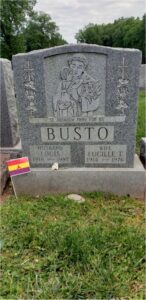 Since 2014, volunteers have visited the graves of Lincolns and honored them on Memorial Day by putting down a simple white rose and an International Brigades flag.  This year, ALBA helped advertise this project through a link to the online version of the Volunteer Newsletter1.   The response from that approach has been rewarding and we have had 25 volunteers who now have information on the grave locations of Veterans of the Abraham Lincoln Brigade across the US.
We would still like to invite volunteers to participate this coming Memorial Day. We have a need for volunteers in Southern California (LA area, the San Fernando Valley and San Diego).  We still need more volunteers in the San Francisco peninsula even though we have volunteers in the East Bay.  As an inducement, we have recently come across the grave location for Marion Merriman Wachtel in Palo Alto and her memoir on Spain was recently re-released.
Each year as we collate the new information which is available on the burial of the Lincolns, we come across family members who have ephemera on their relatives.  New photographs of the Lincolns are still coming up from family members.2
This effort began as a contribution to the biographical records of the Lincoln Battalion undertaken by Chris Brooks of ALBA.  Information about likely grave sites was obtained from diverse sources such as family members, Ancestry, Findagrave and newspaper obituaries. The locations of these graves have been georeferenced so they can be located to within a few feet using GPS and GoogleMaps. The geographical extent of the grave is shown in the Figure.
To volunteer to help this May, please contact the project at albtribute@gmail.com.  A Youtube video shows past visits by friends and family members of the Lincoln Battalion.3
If you want specific information as to how to locate a Lincoln's grave near you, you can contact us at the email addresses below.  Many graves have latitudes and longitude information that can be imported to Google Maps on a cell phone application which will take you to within a few feet of the graves.
If you do visit the grave of a Lincoln veteran, we ask that you leave a flower or a flag, take a photo of the gravesite and a selfie at the gravesite and ensure that your camera is enabled to record the location.  Then send this information to Nancy or Ray; it will be added to the existing data-base of known gravesites.
The men and women who joined international effort against fascism in Spain are more and more forgotten.  We ask that you consider taking steps to remember them this Memorial Day by visiting their graves.  Many who have done this have found it to be an immensely moving experience. Also, by locating a gravesite, you may have the opportunity to add to the existing biographical information about a Lincoln veteran.
Ray Hoff (captainlaser1@gmail.com)
Nancy Phillips (niphilp@aol.com)