New Mexico Volunteers – Ralph Lawrence Neafus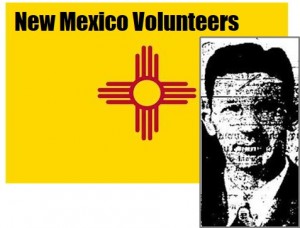 The Albuquerque Museum hosted ALBA's Shouts from the Wall: Posters and Photographs Brought Back from the Spanish Civil War from September 8, 1996 to October 27, 1996. Four biographical sketches were prepared to highlight volunteers from New Mexico. [1]
Ralph Lawrence Neafus
Passport address: 110 North State Street, Ann Arbor, Michigan, but born in Tucumcari, New Mexico, sometime during February 1910 to James Oscar and Laura Whitmore Neafus, a ranching family from Newkirk, New Mexico. In later years the family experienced difficulties and the four children spent time with relatives in Nebraska and Utah. Most of his secondary education between 1925 and 1929 come in the schools of Las Vegas, New Mexico. After graduation he worked in Chicago where his sister Helen was employed. In 1932 he enrolled at the University of Michigan, graduating in June 1936 with a BSE in Forest Zoology from the School of Forestry and Conservation. It was during this time that he became good friends with the playwright Arthur Miller, who drove him to New York to catch a ship to Europe.
Neafus sailed for Spain on the SS Aqutania on June 16, 1937. The 27-year-old evidently became a proficient soldier and served for a time with the MacKenzie-Papineau Battalion of Canada. One anonymous evaluation, found in the Abraham Lincoln Brigade Archive at Brandies University,[2] said he "looks like an intellectual but knows how to handle … pugnacious drunks, and he came off with top honors in the battalion wrestling match. He's an ace scout, and altogether an o. k. guy."
According to Carl Geiser's Prisoners of the Good Fight, Neafus was captured by Moorish troops of Franco's Nationalist Army in eastern Aragon and executed, probably in mid or late March 1938, after the U. S. government refused to demand his release as it had done in the case of Americans fighting in the Nationalist Army.
[1] I am not sure who wrote these sketches.  If you know who put them together please let me know so I can provide proper credit.
[2] ALBA's Archive is now housed in NYU.