Christmas at the Brigade by unattributed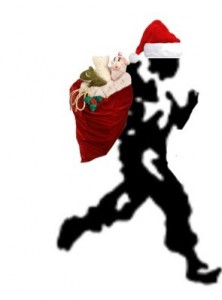 The Volunteer for Liberty, v. 2, no. 2, January 13, 1938
In case any of the folks at home paused in the middle of their Christmas dinners to have a few sober thoughts about the boys in Spain, they will be glad to know that the boys had a vey good time. The Brigade was in reserve over the festival, quarters were reasonably comfortable and the weather was fine and sunny. Units made arrangements for their own celebrations, in some cases combining; each is convinced that its own party was the best.
There was an abundance of good food, including as much meat as any man could put away. The Brigade boys ate turkey, chicken, pork, Christmas pudding and cakes. The sweeter side of the meal was largely made possible by the generosity of our friends at home who sent parcels full of good stuff. It was a timely gift and much appreciated.
In each of the villages through which the Brigade units were distributed, the army and the people celebrated together. Music and dancing were organized , and toys and cakes given to the children, many of whom were refugees from the North. The toys included those which had been sent out from America.
When the Republican Army goes into fiesta, it does not set out to forget the war that brought it into the field. The fascists may need that sort of medicine. With us, the spirit of fiesta and military duties run side by side. Only an army that believes in what it is fighting for can combine the two. Together with the banquets and celebrations, parades and marches were organized and carried out with the same spirit. Owing to a change of timetable the Lincolns and the Twenty-Fourth Battalion were called to parade off the football field at a moment's notice. They went by as if they were used to doing it every day. Awards were made to men of the battalions who had given good service.
General Walter of the 35th Division visited the Brigade; distinguished visitors from Britain and America found their way up. Headquarters Staff were kept busy dashing from one banquet to another. A ghost appeared at the British Battalion's evening meal. Anti-Tanks claim to have gone one better with a Scarlet Woman, the central character in a sketch put on by the unit's dramatic group. The man who took this part had appeared once in public before as the hind legs of a horse.
Brigade Commander Copic received a very fine gold watch, which had been subscribed for by all the units. The following message was engraved on it in Spanish:
"To our friend and leader, Lt. Col. Copic, from all the men of the Fifteenth Brigade."