Book Review: Alphaeus Prowell, An Unordinary Life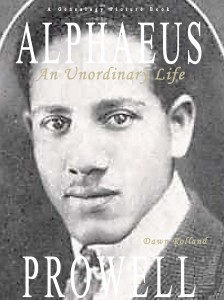 Dawn Rolland's newest e-book Alphaeus Prowell An Unordinary Life, A Genealogy Picture Book, is a companion piece to Letters From An American Volunteer in the Spanish Civil War.  She presents a treasure trove of material that provides context around A. D. Prowell's life. Prowell was part of a small but active group of African American leftists in Los Angeles who volunteered to serve in the Spanish Civil War. Rolland presents a series of documents that showcases Prowell's life. These artifacts span a period beginning during Prowell's school days and continuing until after his death in Spain.  The collection includes yearbook and newspaper articles highlighting Prowell's high school and college experiences.
Rolland also presents material about Prowell's fellow African American volunteers in Spain. This section includes an article by Aaron Johnson, and an exceptional letter from Virgil Rhetta. In his letter, Rhetta, a musician by trade, discusses his role as song leader for his company. There are additional clippings that mention other members from Prowell's circle in Spain. Rolland devotes the last section of the book to the life of Prowell's wife Grace Fisher. Prowell and Fisher were married from 1930 until 1936. Rolland follows her life journey with documents that include her divorce papers, clippings describing Fisher's careers in fashion design, real estate, and her obituary.
This new e-book will spark the interest of readers who want to learn more about African American volunteers in the Spanish Civil War as well as genealogists looking for inspiration. Alphaeus Prowell An Unordinary Life, A Genealogy Picture Book is currently available on Lulu.com.