A New Fund for Anti-Fascist Education
The Abraham Lincoln Brigade Archives, with support from The Puffin Foundation, is thrilled to announce the creation of the Peter N. Carroll Anti-Fascist Education Fund. The goal of this fund is to expand our efforts to contextualize and disseminate the anti-fascist history of the United States through the experience of the Lincoln Brigade. The often suppressed and overlooked history of these so-called "pre-mature anti-fascists" is critical for an understanding of our history and present. The fund's mission is to make sure that primary and secondary source curations of our material are available to all researchers, academics, activists, teachers, and students who need it. We can think of no one better to honor than Peter N. Carroll, who has done so much throughout his life and career to fight fascism through education and awareness raising.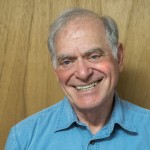 With the inauguration of this fund, we invite you to join us in celebrating Peter Carroll's work and legacy. For those who donate $125 or more to the fund, we offer a gift of a signed special edition of Peter Carroll's latest collection of poetry, Sketches from Spain: Homage to the Abraham Lincoln Brigade.