Letter to the Editors: Praise for Workshop on Hemingway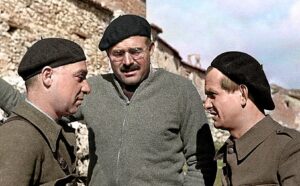 To the Editors:
I am writing to congratulate ALBA for the terrific workshop on Hemingway and the Lincoln Brigade, in the Perry Rosenstein Cultural Series. The many names of Lincolns rang many bells for me and reminded me of the time I worked with Marion Wachtel to write our book on Robert Merriman, American Commander in Spain. That project opened a whole new world for me that was very inspiring.
I was born in 1937 and grew up on movies with John Wayne and others about Iwo Jima and the Pacific. But I knew nothing of the Spanish Civil War. So, the research and rich experiences—I got to attend the 50th anniversary at Avery Fisher Hall, Lincoln Center, and several of the Bay Area lunches—were very fulfilling.  I follow everything and anything on the anti-fascist fight in Spain (and everywhere else in the world including, horrifically, within the U.S. now).
Congratulations, too, on all your work getting the San Francisco display and memorial up and then fixed up as was needed later. Anyhow, all best with appreciation and admiration for your ability to continue to tell the story to new generations that need to know about Spain.
Warren L. Lerude