2021 Memorial Day Tribute to the Abraham Lincoln Brigade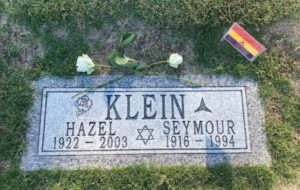 A short video of the graves visited in 2021.
Memorial Day is the day traditionally set aside to remember Americans who served in the military. And, yet, Americans who went to Spain to fight fascism are rarely, if ever, included in the remembrances on this day.
The Lincoln Battalion Memorial Month Project is in the process of changing this. We were pleased to help coordinate the 2021 Memorial Day Tribute to the Abraham Lincoln Battalion. Working from lists of those who returned from Europe in 1937-1940, we have sought to locate the graves of the men and women who came back (about 1700 of them). To date, we have located the gravesites of 578 Lincoln Vets and have about the same number of vets for whom we know the state in which they are buried, but do not have grave positions. It is likely many of the latter group have been cremated and don't have graves, per se.
We want to thank the 34 volunteers who went out to 87 gravesites and placed an International Brigade flag, a flower, and took a photo of the gravesite. Many of the volunteers have related how moving they found visiting these graves.
For 2022, we would like to have volunteers visit the more than 491 graves that have not yet been visited. To do so, we are looking for State Coordinators to offer to help get out volunteers in their home state. If you would be willing to help coordinate this project, please send an email to albtribute@gmail.com.