In Search of Morton Vicker by Louis Segal
I am searching for information about Morton 'Vic' Vicker.  I have reason to believe he was in the International Brigades during the Spanish Civil War.  I did not meet Vic until November of 1969 in Aguacate, Cuba, on the first Venceremos Brigade.*  We bunked together, cut cane together, and spent a lot of time talking.  I was 20 and he was, according to his passport [Morton Morris Vicker] 53 years old.  He was a fierce man; he had a fierce heart, a fierce wit, and a fierce passion for the Cuban Revolution.  He was a senior brigadista and he would regale us youngsters with stories of the Spanish Civil War.    Vic made quite an impression on a lot of the young folks in the Venceremos Brigade.     At some point in the trip, there were some Bulgarians who came to our camp.  Vic and a Bulgarian about his age looked at each other and embraced and wept.  They hadn't seen each other since fighting in Spain. I always assumed Vic was in the Abraham Lincoln Brigade and I was always on the lookout for him when my wife and I went to VALB functions.
After Cuba I ran into Vic from time to time. The last time I saw him, maybe in the early 90s, he was living in a grim SRO hotel on Turk Street in San Francisco.  He called me and wanted a ride to an event about Cuba and he was in pretty bad shape.  He had a hard time moving around but the spirit of resistance was strong in the old man.
It surprised me that he wasn't at any of the VALB events and recently I went and looked at the VALB archives and there was no trace of him.  I corresponded with Peter Carroll and he did not know of Vic.  I talked to ALBA's biographer, Chris Brooks, and he also couldn't find a trace of old Vic.
I also have tried to get in touch with some old San Franciscans who drank and conspired with Vic [Tom McCarthy of the Painter's Union and Cathy Bennett].  But I couldn't track them down.  Either they had died or they weren't answering the phone.  I know Vic spent a good deal of time in San Francisco since the 60s and perhaps well before.  I know he worked as a reporter, that he was a seaman and a house painter.  That he worked doing publicity for the Peace and Freedom Party in 1968.  He also was interviewed in 1973 for the City College of San Francisco student newspaper about helping veterans for upgrading from less than honorable discharges.  Vic was a spokesman for the Discharge Upgrade Project.   He also wrote for the San Francisco Good Times.   And he continued to be involved in the Peace and Freedom Party until, at least 1984.  And I know he died in SF and had a son in Palo Alto.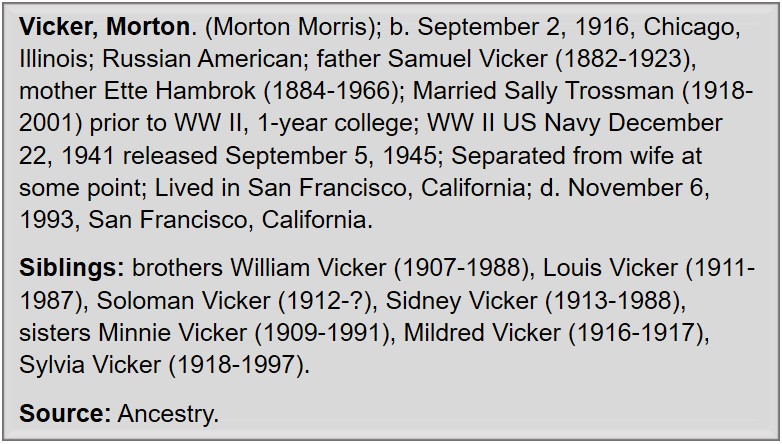 Before that I believe Vic was born in Chicago in 1916, he said he fought in Spain, that a Morton Vicker [Seaman 1/c, US Naval reserve] published an article in the August 1944 US Naval Institute about Submarine attacks.  I'm not sure when he relocated to San Francisco but as often happened that folks who were discharged in SF stayed in SF.  I've heard that he wrote a novel, a few books of poetry, and a newsletter, when he still was in Chicago, called Morton's Farmer.  I believe he knew Mike Quin and perhaps published some of his works for the Olema Publishing Company.  I haven't been able to get any of those books.
Why am I trying to know more about Morton Vicker?  Because he was a striking figure in the cane fields of Aguacate, often with a red handkerchief around his neck or as a head band. He seemed to be wise without being condescending, and I always appreciated his spirit.  I'd like to write something about him but I really don't have enough to go on.  Did he go to Spain during the Civil War?  I believe he did.  Why wasn't in the VALB/ALBA archives?  Did he tell tall tales?  Or was he fighting with another International Brigade?  I'd like to honor him but I need to know more about him before I do.  Not only is there a thin paper trail but I've not been able to find a picture of him.  I talked my old Brigade buddies and although they shared some of the impressions and stories I've told they couldn't find a picture.
But if you know something about him, please contact me at louis_segal@hotail.com.
Louis Segal
History Teacher [ret.]
*George Cohen has an exceptional photographic portfolio documenting members of the first Venceremos Brigade in Cuba.