Black Vets in Spain By James Yates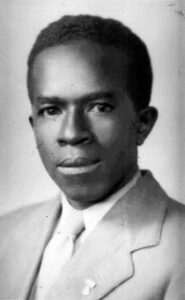 Originally published in The Volunteer, Volume1, No. 1, 1978.
---
In view of the importance of the 'Yates Project' – refer to letter, national mailing of March '78 – we called James Yates with some last minute questions. He very kindly sent us some last minute answers. Without a doubt his is a 'work' that must be supported…  The Editor
---
The Project goes back to about five years ago – when I was first tempted to do an autobiographical sketch of my own life. Simply put, one's own life is in reality but an unfolding panorama of mutually developing relationships in a time and place beyond an original personal choice. The decades of the 20th century. Personal decisions could of course be made, despite the restrictions of that world. The greater the awareness of a concrete reality, the more important the decisions, one way or the other … Like many Blacks born into that America, my awareness began at my birthplace in Mississippi. It grew to maturity in Chicago in the early thirties.
It was precisely in the atmosphere of the thirties – mass unemployment, great demonstrations, strikes, intense organization on the left – that Blacks generally were made aware that the problems of America were but a reflection of the bigger world around us. Ethiopia, Spain, the rise of fascism and racism in Italy and Germany: It was indeed no accident that between eighty and a hundred Blacks were among the first volunteers who went to Spain.
The history of the Spanish Civil War and of the role of the American Lincoln Brigade remains generally a 'closed book' to all Americans. Especially is this true of America's youth – particularly our Black youth. Like most Black history the saga of the Lincoln Brigade has been deliberately ignored by 'accepted' historians.
It was this fact that led me to finally attempt to do the job, lest it not be done at all – to write of those young Blacks who, in the dynamic years of the thirties, helped shape a new direction of our country's social and economic future, and form whose ranks came the Black volunteers of the Lincoln Brigade.
They saw with singular clarity that the fight against world fascism in Spain was directly linked to their own struggle at home against reactionary repression of the Black people. They helped make history in Spain! Black history! Never before had there been an American military unit consisting of Blacks and whites together! Never before had there been an American military unit consisting of Blacks and whites together! Never before had a Black commanded a mostly white battalion (Capt. Oliver Law / Jarama-Brunete)! James Peck, one of the handful of Blacks to obtain a pilot's license in the America of the thirties, was the first American Black to shoot down a plane in any war (five Fiats, registered, Aragon Front / August-November, '37) [this turned out to be false] Alonzo Watson was the first American Black to die in the enjoined 'war against fascism.'
Today there is a new interest in Spain and the Lincoln Brigade. The Black role in the Lincolns must be made known, especially for our Black youth. It is a part of their heritage.
On April 6, Vaughn Love, myself, and Robert Steck, spent a day with a class at Rutgers which is involved in a two month study course on the S. C. W. One student, Michele S. Hirshman, is doing a paper on Blacks in Spain. I'll also be speaking, April 26, at the State University of New York, Binghampton,) Afro-American and African Studies) …
Any information, names, incidents of Black vets of the ALB is solicited. Send to James Yates…
---
Yates autobiography From Mississippi to Madrid was published in 1989.