New Mexico Volunteers – Mildred Rackley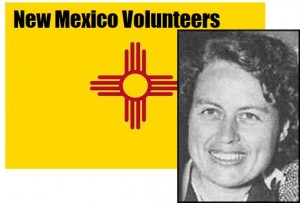 The Albuquerque Museum hosted ALBA's Shouts from the Wall: Posters and Photographs Brought Back from the Spanish Civil War from September 8, 1996 to October 27, 1996. Four biographical sketches were prepared to highlight volunteers from New Mexico. [i]
Mildred Rackley (1906-1992) and the Spanish Civil War
"The whole experience, from beginning to end, stretched my capacities both mentally and physically beyond anything in my previous experience. I learned a lot, and I hope, gave something towards keeping faith with the Spaniards in their desperate struggle."
Thus, years later, did New Mexico native Mildred Rackley Simon articulate the meaning of her participation in the Spanish Civil War from 1936-38. Born in Carlsbad in October 1906, Mildred's ranching family moved to Hendricks, Colorado, east of Colorado Springs, to raise sheep when she was in the sixth grade. Two years later in 1920, after a winter of disastrous blizzards, the Rackley's returned to New Mexico and settled near Sapello, north of Las Vegas. From a one-room school in Colorado, Mildred proceeded to attend the demonstration high school run the education professors from the Las Vegas Norl School (as New Mexico Highlands was then called). After graduation, an aunt provided funds for one year of college at the University of Texas in Austin, and then Mildred returned to Las Vegas to enroll at the Normal School.
With her new teaching degree in hand, Mildred in 1927 moved north to Taos where she taught history, typing, English and PE at Taos High School for three years. At the same time, she began painting and drawing with the encouragement of Wlter Ufer, one of the early members of the Taos Society of Artists. Through Ufer and his wife Mary, Mildred met members of the active Taos intellectual and artistic community including Mabel Dodge Lujan, Ernest Blumenschein, and Victor Higgins and visitors to Taos including Robinson Jeffers, Lady Brett, and Emile Gaugin. She also met a visiting German painter named Hans Paap whom she married in 1930 and with whom she soon departed for Europe.
Mildred and Hans studied and painted in Germany for two years. They traveled, in 1931, to Yugoslavia, Italy, and Switzerland and in 1932 to Barcelona where she observed first hand the reactions of the Spanish people to their new Republic and then to Majorca where she first met refugees from Hitler's Germany.
When her marriage fell apart, Mildred returned to the United States and to Taos, where she continued to draw and paint with the support of Walter and Mary Ufer. By 1935, in the midst of the upheavals of the Great Depression, she left Taos for the greater artistic and cultural opportunities of New York City. Increasingly politically active, Mildred worked on the staff of Fight Magazine, a publication of the League Against War and Fascism, to support her artmaking. Later she was involved with the 1,000 member Artist' Union pressuring the federal Works Progress Administration (WPA) to support unemployed artists.
While Mildred was employed by the WPA making sketches for murals for public buildings in late 1936, a friend asked if she would be interested in using her language skills to serve as an interpreter/secretary with the U. S. medical team that was organizing to go to Spain. Would she like to play a part in the international response to support the Spanish Republic at the onset of the civil war? Would she become one of the 3,000 Americans to volunteer to come to the aid of democracy?
"I had lived in Spain in Mallorca and loved the country and the people, and was deeply moved by their enthusiasm for their new Republic with all its new possibilities for them – in government, freedom in religion, and in the possibility of getting education, getting land. What exuberance!"
And so in January of 1937, Mildred Rackley sailed for Spain with the first American medical team, headed by New York surgeon Dr. Edward Barsky. In the next year and a half, her fluency in Spanish, German, and French would greatly facilitate her usefulness in assisting in the setting up of American hospitals, first at Valdeganga and Huete and later at Albacete, Romeral, and Villa Paz, and in making sure they operated with adequate supplies.
In addition to the rigors of constantly helping to care for waves of badly wounded soldiers from the front, Mildred maintained communication with the Medical Bureau to Aid Spanish Democracy in New York which financed the U. S. efforts. Plagued by a bitter personal struggle within the nursing staff, she later transferred to work with a British medical unit. Her experiences included scouring the countryside for stoves, gasoline, water pumps, and other supplies for the hospitals using her ranch skills to raise pigs, chickens, rabbits and goats and cultivating a garden to provide fresh food for the patients and staff. On one trip foraging for supplies, she and her driver were forced to jump for their lives into a ditch when the vehicle in which they were riding was strafed and bombed by enemy aircraft. She also aided in the major evacuation of patients to Barcelona in the spring of 1938. But during quieter moments, Mildred and Dr. Barsky also had an opportunity to lunch with Ernest Hemmingway one afternoon in Barcelona. Hemmingway had donated funds for American ambulances and was a major supporter of the U. S. medical efforts in Spain.
And Mildred found time between battles to continue to sketch and draw and like many American volunteers, to record her impressions of the war. Officially licensed to carry a 50mm Leica, as an amateur photographer, she captured the striking images of war, of the Medical Bureau volunteers, and of the people of Spain that accompany this exhibit.[ii]
In the summer of 1938, New Mexico's only female veteran of the Spanish Civil War finished her tour of duty and prepared to return to the United States. After a two wekk stopover in Paris where she found time to visit the Louvre, Notre Dame, and attend Carmen at the Opera, Mildred Rackley, Lieutenant, Service Sanitaire, sailed on July 6 on the Aquitania for New York.
The war in Spain would continue its deadly progress until the following spring. Mildred Rackley, meanwhile, returned to New Mexico where she continued to develop as an artist and printmaker. Though less politically active, she did run camps in the summer for New York City school children at the family's ranch north of Las Vegas. When the United States entered World War II, Mildred moved to California where she worked as an engineer doing mathematical calculations in the Oakland shipyards. In 1944 she married Rawlings Simon. The Simons adopted two sons, Philip and John; by 1960 Mildred had returned to teaching. She died in 1992 at the age of eighty-six.
[i] I am not sure who wrote these sketches.  If you know who put them together please let me know so I can provide proper credit.
[ii] This refers to the photographs exhibited along with the Shouts from the Wall exhibit in New Mexico.