Pledge of the International Brigade Soldier – Unattributed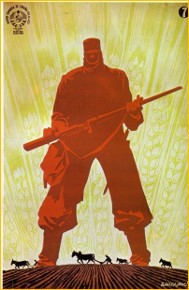 The Volunteer for Liberty, January 13, 1938
(This pledge was taken by the 15th Brigade Training Camp soldiers on January 1, 1938.)
We promise, on this New Year's day, to renew our Pledge:
With all our hearts, we shall fight until we win our Victory over fascism.
We shall carry out our duties in the Republican Army of the Spanish Republic, and carry forward the victory of Teruel to its final conclusion, and if necessary give our lives for this cause.
We pledge to fight the enemy at the front and the defeat the enemy in in the rear.
We pledge to fight and carry on until the heart of fascism has been destroyed throughout the world.
We pledge to the working class of all the world that we will carry high their banner.
We thank the Spanish people for this opportunity to join them in their struggle.
We pledge our Victory as vengeance for our fallen comrades.