Lloyd Edward Johnson (1896-1938) Volunteer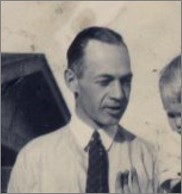 Lloyd Edward Johnson was 41-years old when he arrived in Spain in April 1937.  He was the oldest of four sons born to Norwegian immigrants Seavert and Nesina Johnson. Johnson was born and raised in St. Paul, Minnesota.  He applied for a position as an apprentice electrician with the Northern Pacific Railway Company when he was 16. During World War I, Johnson joined the US Army serving in Company G, 56th Engineers and rising to the rank of Corporal before the end of the war.  After returning from the war, he married Dorthy Lurlene Ohrner and found employment as a purchasing agent at a printing office in St. Paul. Johnson and his wife had two boys Robert Lloyd Johnson and Donald James Johnson born in 1922 and 1926 respectively. The Johnsons divorced in 1928.
In 1937, when Johnson volunteered to serve in Spain, he was divorced and working as a magazine salesman. Johnson's passport listed his address as Stillwater Avenue, White Bear Lake, Minnesota. He received his passport in at the end of March and sailed for Europe shortly afterward.
Johnson joined the George Washington Battalion and was listed as serving in Company 1, Section 1 in training.  He went to the front with the Washington Battalion and remained with the unit when it merged with the Lincolns during the Brunete Offensive.  His service in Spain is not well documented and it is not clear if he remained with Lincoln-Washington Battalion after Brunete.  He is documented as serving with the Lincoln-Washington Battalion, Company One during the Ebro Offensive and is listed as missing in action on September 7, 1938, at Corbera.
~This brief sketch presents an overview of Lloyd Edward Johnson's life.  In some respects it contains more information than we have on many volunteers in ALBA's records.  Johnson's grand daughter provided most of the information along with both of the photographs.  If you have additional information about Lloyd E. Johnson please take a moment and leave a comment..
ALBA's files on the volunteers are going through a significant upgrade with new information drawn from United States State Department Passport Records, International Brigade Archival records, and documents from Ancestry and other data bases.  We would also like to ask for updates and corrections from the families of the volunteers.