From Vinebre to Corbera d'Ebre: La XV Brigada Internacional July-September 1938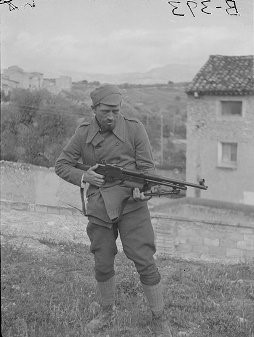 From the third minute of
this video
, Friends of the International Brigades in Ireland are shown on their May 26 visit to the battlefield outside Corbera d'Ebre, where Kerry born Lincoln Battalion volunteer Thomas O'Flaherty had been among those brigadistas killed in action in September 1938, and whose nephew, Kerry Flaherty, carries an Abraham Lincoln Battalion banner, made by Nancy Wallach, in tribute.
See the ALBA volunteer database for more information on Thomas O'Flaherty.See also the photo on the homepage of the Abraham Lincoln Brigade Archives, which shows Thomas O'Flaherty, front row, first left.
The video opens with the May 26 FIBI tribute paid by my sister Brenda and myself at Vinebre, near Ascó, where our father had carried the flag of Catalunya when the 15th Brigade's British Battalion crossed the Ebro on July 25, 1938, and where the O'Riordan family would scatter a portion of his ashes in the Ebro on May 12, 2007.