The Unusual Case of Alexander Sauermilch, Volunteer and Survivor of The Ciudad de Barcelona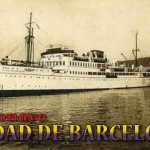 Alexander Sauermilch was one of more than seventy American volunteers who boarded the Ciudad de Barcelona (City of Barcelona) docked in port of Marseille, France on the night of May 30, 1937. The following afternoon as the Ciudad de Barcelona, hugged the coast approaching Malaga she was sighted by a Nationalist submarine. The General Sanjurno, a Nationalist flagged Italian submarine, launched two torpedoes one of which fatally struck the City of Barcelona . Within ten minutes the ship slid beneath the waves.[1]
The torpedo exploded under the engine room killing several crewman and volunteers. Other volunteers trapped below decks drowned when the ship went down. Only two lifeboats were successfully launched. Another overturned spilling its passengers into the sea. Most volunteers who reached the water survived either because they had their life jackets or clung to floating debris. In all approximately 60-65 volunteers and crew died.[2]  Twelve Americans were killed see Table 1. List of Americans Killed below.[3]
Table 1. Americans Killed
| | |
| --- | --- |
| Casper Warren Anderson | James Howard Mangle |
| William Grant Hadley | Ed Pierson |
| John Henry Inget | William Schultz |
| Joseph Klimowski | Herbert B. Solomon |
| Sollie Kobrin | Charalampos Tsalikides |
| Joseph Julius Lampert | Steve Varga |
Alexander Sauermilch, a volunteer from Portland, Oregon, survived the attack but was reported "dead" during the ensuing confusion.[4] Table 2 below lists the American volunteers who survived. Sauermilch was born in Fresno, California on March 15, 1915. He completed high school before becoming a seaman. He was 22-years-old when he volunteered to serve in Spain. He obtained passport 27616, San Francisco series, on May 6, 1937 and sailed for France less than a month later.[5]
Sauermilch was en route to Albacete with other survivors when they stopped briefly in Valencia on June 1, 1937. He took advantage of the stop to separate himself from the group and contacted the American consular office in the city to request assistance in returning home.[6] By June 17, 1937, Sauermilch was in Algiers. Consular officials contacted his family to arrange payment for Sauermilch's return but his family advised they were unable to pay for his passage home. He eventually found a berth as a seaman and arrived in Edinburg, Scotland aboard a Danish vessel on June 29, 1937. Sauermilch worked his way home arriving in the US in late July 1937, aboard the California.[7]
Sauermilch likely lost his passport when the Ciudad de Barcelona sank or left it in the safekeeping of the Paris office. He obtained a new passport, number 3658, issued July 13, 1937, in London.[8] Upon his return Sauermilch resumed life as a civilian. Census documents from 1940 indicate that he was working for the Army Engineers as a cook. His address listed "Midway, Honolulu, Hawaii" which suggests he was working on Midway Island. After the outbreak of WWII Sauermilch worked as a Seaman, Cook, and Chief Steward. His last known reference is from his arrival in the United States on January 13, 1942, aboard the USS Mercury. Ships records indicate that he was serving as a Second Cook, and Baker.[9] Sauermilch died on March 20, 1997 in San Mateo, California. His death certificate indicated that he also used the last name Stewart in the 1940s.[10]
Table2. American Survivors
| | |
| --- | --- |
| Frank Edward Arvola | Boris Rudolph Oretchkin |
| Ulises Bauza | Abe Osheroff |
| Elsworth Joseph Bisson | Zygmund P. Piasecki |
| Phillip Walton Bradbury | Claude Pringle |
| Levi Earl Brian | Robert Lee Reed |
| Karl Jacob Cannon | Axel Reinholm |
| William Harris Cantor | Charles Roffeld |
| Milton Mitchell Cohen (unconfirmed) | Samuel Romer |
| Eugene Victor Crawford | Charles Roth (unconfirmed) |
| Francis Daly | Harry Rubin |
| Solomon Davis | Aate Hijalmar Sankari |
| Larry Stratford Dukes | Alexander Sauermilch |
| Max Farrar | Robert Charles Schweinfest |
| Jack Freeman | Sidney Shostek |
| Julius Gerhardt | Conrad Silverman |
| Joseph Gibbons | Abraham Sobel |
| Herman Greenfield | Ralph Theodore Spinner |
| Hyman Jacobs | Alfred Strom |
| Horace Lincoln Kark | Frank Paul Strong |
| Benjamin Kasinap | Robert John Sullivan |
| Harry Katzin | Thain Summers |
| Roman Kendzierski | William Rufus Trogdon |
| John Kozar | John Butler Turner |
| Martin Arwar Kuusisto | Earl Frederick Vail |
| Kalle Heikki Lappalainen | William Crane Van Felix |
| Raphael Lopez Elipidio | Albert Wallach |
| Joseph Luftig | Oiva George West |
| Anthony Matosich | William Thomas White |
| Murray Nemeroff | Ralph Anto Woimala |
| Eugene Victor Nolte |   |
[1] Ciudad de Barcelona 30th May 1937 a web site created by Allen Warren and Sonia Garangou.
[2] "List of Dead from City of Barcelona May 30, 1937 (complete to September 10, 1937), RGASPI Fond 545, Opis 6, Delo 51 ll. 8; Opis 6, Delo 53, ll. 47, This list includes Sauermilch among the dead.
[3] Survivors Ciudad de Barcelona; Adolph Ross, American Volunteers in the Spanish War, 1936-1939, Self-published, 1993, p. 131, Ross lists Sauermilch among the surviving volunteers.
[4] IBID., RA Fond 545, Opis 6, Delo 53, ll. 41, 47; Survivors Ciudad de Barcelona; Adolph Ross, American Volunteers in the Spanish War, 1936-1939, Self-published, 1993, p. 131, Ross lists Sauermilch among the surviving volunteers.
[5] SACB; Lincoln-Washington Tree, Ancestry.com
[6] United States State Department Archives (USSDA) 2:0894, 59:0726; "The City of Barcelona," in Alvah Bessie and Albert Prago, eds., Our Fight, Writings by Veterans of the Abraham Lincoln Brigade Spain 1936-1939, New York: Monthly Review Press, 1987, p.85, Abe Osheroff, a survivor of the sinking notes that Luis Companys told the CoB survivors that they could return home and one volunteer elected to do so. This volunteer was likely that this is a reference to Sauermilch.
[7] Ancestry.com; USSDA 2:0894, 59:0726.
[8]Ancestry.com, The California first docked in Boston on the July 25, 1937 and additional information can be found on the ship manifest under that date; USSDA 2:0894, 59:0726.
[9] IBID.
[10] Ancestry.com L-W Tree.