Honoring Limerick brigadistas and a British battalion commander
From the Shannon to the Ebro: The Limerick men who went to fight Franco, the Limerick International Brigade Memorial Trust, September 2014;
Fighting for Republican Spain 1936-38: Frank Ryan and the Volunteers from Limerick in the International Brigades, Barry McLoughlin, September 2014.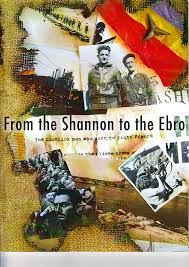 The weekend of September 12-14 saw a wonderful celebration of the legacy of the International Brigades in Limerick. It ranged from a book launch to a symposium, and from a concert by LIBMT patron Andy Irvine (including his newly composed song in honour of Frank Ryan) to the unveiling of a wonderful memorial at Limerick City Hall to the six Limerick International Brigade volunteers: Paddy Brady, Gerard Doyle, Frank Ryan, Joe Ryan, Maurice Emmet Ryan and Jim Woulfe. Attendances of up to 300 people were experienced from start to finish. Premises on the main and adjoining streets were bedecked with Spanish Republican flags. The Sunday morning parade through the city from the Limerick Mechanics' Institute to the City Hall was led by a colour party from Ireland's Organisation of National Ex-Servicemen, carrying both the Irish National Flag and the Flag of the Spanish Republic, followed by International Brigade banners of the Connolly Column, the British Battalion and the Tom Mann Centuria, as well as many trade union banners. The memorial was unveiled by Charlotte Ryan Wetton, a grandniece of Frank Ryan, and a wreath was laid by a sister of Joe Ryan. The oration was given by IBMT patron Jack O'Connor, General President of Ireland's largest union, SIPTU.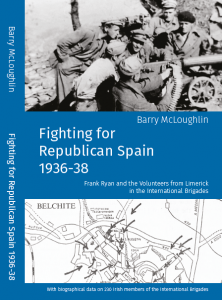 Historian Barry McLoughlin had originally been working on the LIBMT brochure, but a breakdown in his relations with the LIBMT last May resulted in the two books under review. In many ways, this has had a beneficial outcome for those wanting to learn a lot more about individual International Brigaders. Both books bring to life the stories of all six Limerick brigadistas, but particularly of three little known before now. LIBMT Secretary Tom Collopy tells the story of Joe Ryan, a December 1936 volunteer who would be wounded in mid-1937 and later lose his life in August 1941 when his British merchant navy ship was torpedoed by a German U-boat. LIBMT Vice-Chairman Mike McNamara tells the story of Gerard Doyle, already promoted to sergeant when wounded at Belchite in July 1937, yet back in action by the end of the year at Teruel, but captured by the Fascists, along with Frank Ryan, at Calaceite in March 1938 and fated to be imprisoned in the notorious San Pedro concentration camp until released in a prisoner exchange in October 1938. IBMT trustee Danny Payne profiles the Liverpool-based but Limerick-born Paddy Brady who fought at both Jarama and Brunete, where he was wounded. IBMT trustee and historian Richard Baxell provides an overview of the Spanish War itself, while LIBMT PRO Ger McCloskey profiles both the International Brigades in general and the Irish involvement in particular.
Both books are well illustrated with photographs, many previously unpublished. Each book has its own respective strength. The LIBMT book is also a wonderful cultural miscellany, with a perceptive review by Pamela Cahill of Limerick writer Kate O'Brien's 1937 book Farwell to Spain, together with poems by García Lorca, Miguel Hernández, John Liddy, John Cornford and Margot Heinemann, complemented by a biographical essay on Heinemann by her daughter Jane Bernal. McLoughlin's strengths as a historian are evident in his coverage of the military aspects of the War, with the reader's understanding greatly enhanced by the author's reproduction of maps in respect of each of the military engagements described. His knowledge of German sources also provides for a greater understanding of Germany's view of Ireland's World War Two neutrality. He further concludes: "Fearghal Mc Garry, an expert on Ireland and the Spanish Civil War and on Frank Ryan's life, writes (in his 2002 biography) of 'Ryan's decision to go to Germany', and that he was a collaborator of the Germans.  A careful reading of the sources, I believe, would suggest that such statements are too unequivocal." But McLoughlin's soft comments are themselves too equivocal, avoiding either a critical analysis of the selective use of primary sources by McGarry, or reference to any corresponding secondary source. One such was my own point-by-point refutation of McGarry's selective use of sources, posted on the www.irelandscw.com website for over a decade, and again restated in my own chapter on Frank Ryan for the LIBMT book. I demonstrated that throughout his stay in Germany, as in Ireland and Spain previously, Frank Ryan remained a Connolly Socialist; that the Spanish Anti-Fascist War never left his thoughts, as evidenced on the very day of his death in June 1944; and that he was no collaborator, but rather his declared policy and practice was one of 100 per cent support for de Valera's strategy of saving Ireland from both War and Fascism.
McLoughlin explains that his book was a rushed job, designed to be launched a week ahead of the LIBMT commemoration. In the LIBMT book Alan Warren is the author of the profile of the third of the unrelated Ryans among the Limerick brigadistas, Maurice Emmett Ryan, while the closing chapter of McLoughlin's book is entitled "The Killing of Maurice Emmett Ryan". McLoughlin admits he has no new information to add on that death. The fact that Ryan had been executed by British Battalion commander Sam Wild for firing on his own side has been in the public domain since the 1986 publication by Ian McDougall of Voices from the Spanish Civil War: Personal Recollections of Scottish Volunteers. Prior to that, International Brigade veterans had avoided all mention of that execution, including two of Ryan's fellow Irish brigadistas on the Ebro front, Michael O'Riordan in Connolly Column (1979) and Eugene Downing in La Niña Bonita agus an Róisín Dubh (1986). But in a 2002 interview posted on the irelandscw website Downing finally did so, while O'Riordan republished that Downing interview in full in the second edition of Connolly Column in 2005. McLoughlin, however, complains that Scottish brigadista John Dunlop's "version of the cause of Ryan's final and fatal arrest has been accepted by historians", and while having absolutely no additional evidence whatsoever to present, he nonetheless proceeds to present a new, sensationalist spin.
It is a pity that, in his rush to print, McLoughlin also engages in a rush to misjudgement. In his pre-launch press release McLoughlin claims: "The final chapter is the first attempt to describe in detail one of the most gruesome episodes that occurred in the British battalion: the semi-judicial murder of a Limerick volunteer, the machine-gunner Maurice Emmett Ryan during the Ebro battle in August 1938." He further states in his introduction: "There was a sinister side, specifically 'getting rid of troublemakers' (assassination), as the case of Sergeant Emmett Ryan demonstrates." Now, wild accusations of "semi-judicial murder" should not be made without evidence. Paul Preston, a superbly professional and conscientious, if often uncomfortable, historian of the Spanish Civil War, spent decades scrupulously and painstakingly weighing up the pros and cons of the forensic evidence in its unculled entirety, before arriving at a definite conclusion on the shared responsibility of the future Eurocommunist leader Santiago Carrillo, together with communist and anarchist forces, for what Preston described in his 2014 biography, The Last Stalinist: The Life of Santiago Carrillo, as the 2,200 to 2,500 "extra-judicial murders carried at Paracuellos" in November 1936. But McLoughlin throws his own allegation around like confetti, ignoring some of the evidence that he himself has presented, while culling more. The prosecutor and chief witness against Maurice Emmett Ryan would not for a moment have countenanced his execution merely for being a loud-mouthed and cynical shit-stirrer. Quite the contrary, John Dunlop had very much warmed to Ryan, saying of him: "And yet the man, although he was such a rogue, was an extremely likeable rogue." Nor did Dunlop accuse Ryan of actually killing any fellow brigadista with his "friendly fire", in which case summary execution without the slightest delay would have been more than justified. That accusation has, of course, been made, and was the subject matter of a controversy between Alan Warren and myself in July 2008 which was posted on both the Abraham Lincoln Brigade Archives digest and the irelandscw website. Warren related some gossip that Ryan had killed Lewis Clive, which I immediately refuted, with the evidence of my own father, Michael O'Riordan, who was right beside Clive when he was shot in the forehead by Fascist fire from the front, and not by any of Ryan's fire from behind. I have never tolerated false accusations against Ryan, and in two separate publications in 2003, both of which were republished by my father in 2005, I thoroughly rejected any suggestion that Ryan was a Fascist agent.
Warren readily accepted my evidence that Ryan was innocent of Clive's death, but now appears to be agnostic as to whether or not he was guilty of any drunken "friendly fire" at all. McLoughlin, however, insists that he was completely innocent. In the process he blackens Sam Wild's character, accusing him of "semi-judicial murder". There is a build-up. His account of the British battalion fiesta on 14 July 1938, and "the second event that throws a negative light on Wild's leadership", draws on the Billy Griffiths narrative reproduced in Angela Jackson's 2008 book At the Margins of Mayhem. 'Hooky' Walker, the battalion cook with responsiblity for preparing the fiesta dinner, "had got into a hopeless alcoholic state in the morning" and had to be arrested, and "after the meal Wild returned and subjected 'Hooky' to an unmerciful beating". McLoughlin, however, in contrast to Jackson, stops short of continuing the Griffiths narrative: "In a few days, they made up and carried on as if nothing had happened." But surely Wild's behaviour that evening was also a reaction to the outcome of McLoughlin's first "negative light" event of the fiesta, the machine-gun competition that took place, with a considerable amount of drink also taken, between Maurice Ryan and Gordon Bennett, when a failure to clear the gun chamber of bullets resulted in the accidental but fatal wounding of a Spanish Republican soldier and a refusal by the incensed Spaniards to allow any British battalion presence at his funeral.
Both Warren and McLoughlin state that it is not clear whose gun went off. There is, however, a balance of probability. Warren's account displays a photograph of Ryan operating his machine-gun at the fiesta, but omits to complement it with the second photo that had accompanied it in Jackson's book, of the self-same Ryan attending to the dying Spanish Republican. While Ryan was undoubtedly upset by the death that resulted from such irresponsible and drunken mismanagement of a machine-gun, it is regrettable that its fatal consequences did not now have a sobering effect on him. Quite the contrary, to such an extent that McLoughlin would have us believe that Ryan was incapable of firing even a single bullet in that end-July unsuccessful assault on Hill 481, with so many British battalion dead, and O'Riordan and Downing among those wounded. McLoughlin argues for "the strong likelihood that Ryan was not firing the gun at all but enjoying a siesta with a bottle of wine". But such a "fiesta to siesta" portrayal of Hill 481's bloody battle totally ignores the account in my July 2008 posting of the eyewitness testimony given to me by John Dunlop himself in Glasgow in October 2003. In the wake of reporting to Sam Wild that he had come under fire from a gun on his own side, Dunlop told me that "when he and others subsequently came back to investigate what on earth lay behind that occurrence, they found a drunken Maurice Ryan fast asleep beside his machine-gun, together with the spent belt of his erratic, but mercifully off-target, fire."
Sam Wild did not shoot Ryan on the spot, although that would not have been an unreasonable temptation. Instead, another five days elapsed, as Wild sought to have Ryan formally court-martialled behind the lines. In the midst of such a fight-to-the-death battle, this was quite impractical, and the order came back for Wild to sort it out himself. In his 1999 book, The Irish and the Spanish Civil War, Robert Stradling more realistically recounted how hurried consultations among the Brigade's field officers "in effect constituted a drum-head court martial" but, as the battle raged on, "nor could even a firing squad be spared from among the men on Hill 481. Thus, Sam Wild and his adjutant volunteered to carry out the grim duty." Downing and O'Riordan were hospitalised at the time, having been wounded in the previous week's fighting, but Wild asked fellow-Irish brigadista Jim Prendergast to explain to them on their return from Spain both the details and the necessity of what Wild himself undoubtedly regarded as his "grim duty".
McLoughlin otherwise notes that Sam Wild was "arguably the most popular leader in the history of the British battalion." I know not of a single member of that battalion who would have ever subscribed to a character assassination of him as a semi-judicial murderer. Ryan had not been executed for any thoughts or words uttered, but for his potentially lethal actions. McLoughlin misses the point of the precise words in the poem by fellow Ebro brigadista James Jump recalling his own warm friendship with Ryan: "Though I do not condone what you did… you were a fine machine-gunner when you were not sleeping off the effects of drunkenness." Ryan had been a courageous brigadista, and McLoughlin rightly pays tribute to both his heroism and his proficiency as a machine-gunner during the previous winter's battle of Teruel. But I know not of a single brigadista who would subscribe to McLoughlin's contention that Ryan had not drunkenly fired on his own side on Hill 481. Nor, despite appearances, does McLoughlin know of any. In fairness to Warren, he at least retains the integrity of some key remarks by Downing, quoting in full what followed after his conclusion that "vino was his downfall". McLoughlin, however, completely omits any reference to the very next sentence, where Downing added, without any shadow of a doubt over his own considered conclusions: "During the Ebro battle he turned his gun on his own comrades while roaring drunk."
It is a pity that McLoughlin's book is marred by character assassination, for it otherwise has much to offer, not least in respect of the one Limerick volunteer to be killed in action, Jim Woulfe. Previous histories had said little more than that he had been fatally wounded by a grenade at the battle of Belchite in August 1937. Barry McLoughlin, as well as David Convery for the LIBMT book, have each now reproduced the eyewitness account by Woulfe's Canadian comrade-in-arms Peter Nielsen that pinpoints the spot outside the church of San Agustín where he had fallen, with McLoughlin providing the map and Convery the photograph of that church. It is thanks to both of them that, during the IBMT visit to the battlefields of Aragon this October, I was able to pay a Connolly Column tribute to Jim Woulfe at that precise spot in Belchite where he had given his life in defence of the Spanish Republic.
Manus O'Riordan is Ireland Secretary of the International Brigades Memorial Trust