Political posters from Chile on show at El Taller Latino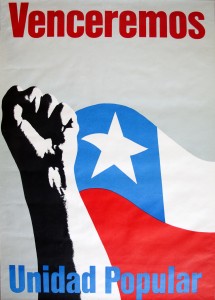 The exhibit "Chile Vive"  featuring historical posters from Salvador Allende's Popular Unity Government in Chile (1970-73) is on show at El Taller Latino (2710 Broadway, NYC) until November 2. (See here for a review in the Indypendent.) Curators are Andrea Arroyo and Carol Smith, who sends along the following:
I had the great privilege of living in Chile during the second year of the Popular Unity government. I was able to witness first-hand the land reforms where peasants were given land and the exuberance the mass demonstrations of the Popular Unity. I saw theatre and dance groups which went to the factories and countryside to perform. The music of Victor Jara, Quilapayun, and Inti-Illimani were part of this cultural renaissance, as were the political murals which covered many the walls throughout Chile.
At the time, I was working at the City College of New York, where there were students from Latin America and Puerto Rico who were very interested in the events unfolding in Chile. I too was excited about the possibility of a peaceful transition to socialism through democratic elections. It was a thrilling historical moment which inspired the hopes of millions of people in Latin America and other parts of the world. I was part of a community of several thousand people from all over the world who came to observe or participate in constructing a democratic, socialist country.
I am a collector of political posters because I am interested in political art. Many of the posters in my collection of posters from Chile were given to me as presents. After the coup, these posters took on special meaning, because so many thousands of posters were destroyed at the time of the coup.
Part of my collection was on exhibit at Princeton University in the fall of 1973.This same exhibit was at the Brecht Forum in September 2003. I would like to thank the Taller Latino and Andrea Arroyo for hosting the exhibit on the 40th anniversary of the coup. My collection has been promised to the Center for the Study of Political Graphics in Los Angeles.
The tragic end of the Popular Unity government, and the role played by the US must never be forgotten. But it is also important to remember the dream-of the possibility of creating a more just society, free of exploitation. People worked hard to achieve that dream during the Popular Unity period. We must remember the joy of a people who were creating new human possibilities, who believed another world was possible. These posters serve as a reminder of that time.
 Carol Smith, co-curator
Special thanks to Andrea Arroyo, co-curator; Rodolfo Leyton, production; Prof. Gerard Meyers,Hostos Community College, Joseph Esposito and Dena Fisher for their assistance.