Madrid's Dangerous Attempt to Rewrite SCW History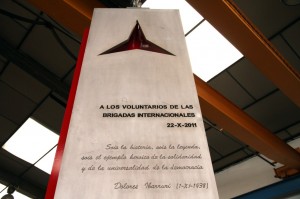 As veterans, family, and friends of the International Brigades protest the Supreme Court of Madrid's decision to remove the IB Memorial at the Universidad Complutense de Madrid (UCM), The Guardian's David Mathieson reports on the dangers of rewriting history.  While students at UCM have passed General Franco's huge Nationalist memorial "el Arco de la Victoria" on a regular basis for the past since its construction in 1942, only in 2011 was a small memorial for the members of the International Brigades built in the city, despite massive resistance by conservatives.  In 1936, the university witnessed some of the fiercest fighting in the defense of Madrid as the Republic's first international volunteers warded off Franco's attacks on the library and faculty buildings around campus.  According to Mathieson:
Explaining the past to shape the future is a basic tenet of any mature political process. Outside Spain, other European countries are increasingly able to face up to their own dark history. Visitors to cities such as Berlin, Nuremburg or Lyon, for example, will find world class museums that deal candidly with their role in the 20th century, and Liverpool's museum of slavery sheds light on a shameful episode for the British. Yet in Madrid there is not a single information point or visitor centre attempting to tell the history of the civil war. The PP administration is unable to deal with the diversity of claims on the past and so it prefers to try and lock down any discussion at all.
Indeed, many streets still bear the names of Franco's accomplices, yet disturbingly, it is the solitary monument to the International Brigades that is targeted.  How can Madrid advertise itself as an "open, diverse, and transparent city of the future" if it promotes an asymmetrical narrative of the war, actively suppressing any public display that might challenge this narrative through a shady interpretation of the law.
To read more, click here.
To sign the petition protesting the IB Memorial's removal, click here.
To read previous Volunteer coverage of the IB Memorial, click here.