Review: The Catalan spy who saved D-Day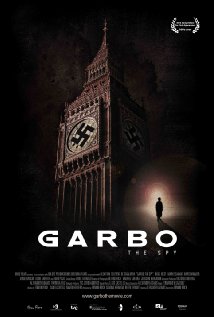 Garbo: The Spy. A documentary by Edmon Roch (Spain, 2009; US release 2012, distributed by First Run Features, 88 minutes).
Garbo: The Spy tells the story of double agent Joan Pujol García's role in World War II espionage. A young Catalan who had deserted the Republican army to fight for Franco, Pujol convinced the Nazi intelligence services in Madrid at the onset of World War II to accept his offer of providing information about the British war effort, and in 1941, after five attempts, finally persuaded British intelligence to allow him to become a member of its service. Known to British MI5 as Garbo and to the German Abwerh as Arabel, double agent Pujol became a master of deception, one of espionage's key ploys. After settling in London, Pujol invented a network of 27 fictional informants who provided him with information about such things as troop movements in Britain and top-secret British military plans that he then relayed to Madrid's Abwerh section in long, detailed, and extravagant dispatches, which were generally deemed to be sufficiently reliable to be sent on to Berlin. What the Germans did not know nor did they ever find out was that the information they received from Arabel was, in fact, being provided to Garbo by British intelligence. Germany's trust in Arabel was such that on July 29, 1944 he was awarded the Iron Cross for his services to the German war effort.
Garbo's greatest feat was the key role he played in the success of Operation Fortitude, the elaborate deception created by British intelligence to mislead the Germans about the timing and site of the invasion of the continent. His dispatches convinced the Germans that the expected Allied invasion would take place at the Pas de Calais rather than Normandy, which was where the Germans assumed the landing would occur. Thus, they fortified Calais and withheld sending additional troops and Panzer divisions to Normandy. After the landing on the beaches of Normandy, which took the Germans by surprise, Garbo's task was to convince the Germans that this invasion was merely a diversion from the Allies' true mission which was to send its forces across the Pas de Calais and onto the continent. Once again, the Germans were deceived by Arabel's false information and prepared to resist the onslaught of the major invasion at Calais. Garbo's deception provided the Allied forces with the precious time needed to secure their positions in Normandy and begin their march towards Paris, which was liberated on August 25, 1944. Again, Pujol was decorated for his masterful deception. However, this time it was King George VI who on November 25, 1944 awarded to him the Order of the British Empire (OBE) even after learning that he had been awarded the Iron Cross. After the war Pujol quietly disappeared only to be heard from again when a British newspaper in 1949 published the notice of his death in Angola.
Another story is told in this excellently made and well-paced documentary by Edmon Roch. It tells how historian and spy writer Nigel West (Rupert Allason) having never  believed that Pujol had died of malaria in Angola set out to find Pujol in order to invite him to Buckingham Palace to publicly decorate him with the OBE during the 40th anniversary commemoration of D-Day in 1984. For this search West hired a research assistant in Barcelona to comb through the city's telephone directory on a hunch that one of Pujol's relatives might have information regarding his whereabouts. And, indeed, this turned out to be the case. A nephew had received a postcard postmarked in Venezuela, but had never again heard from him. With this lead West was able to find Pujol, who had settled in the town of Lagunillas, become a moderately successful businessman, and had a new family. Although it is unclear whether Pujol ever went to Angola, we learn that after the war he never again saw the wife and two children who had accompanied him during most of his stay in London and who had returned to Madrid. Believing him dead she never told the children who their father was. And, Pujol himself never told his new Venezuelan family about his activities during the war.
Pujol's secret never would have been revealed to each of his families–or to the world–had not West persevered in his search of this elusive character who had continued building a web of deception much like he had done during his years as an agent. While family secrets in particular those having to do with wartime are common, it is nevertheless heartbreaking to watch Pujol's Spanish son Joan Miquel Pujol recount how he discovered that his father was alive and, moreover, his identity.
Edmon Roch's documentary masterfully weaves these two stories together relying on excellent archival footage, including scenes of the D-Day landing and of Barcelona during the Spanish Civil War, Carmencita Franco flanked by her parents and prompted by her father addressing German children, and amazing shots of Allied soldiers picking up the fake tanks they had built in order to deceive the Germans into believing that there existed in Britain two landing forces rather than one. Roch also incorporates scenes from Nazi propaganda films: the beautiful and healthy-looking Aryan youth who was to be Europe's future. And at the crossroads of these well told stories is Pujol whose genius as a double agent was to live in the shadows, to be invisible. Thus, there are very few visual traces of the man who successfully deceived the Germans primarily in his writings. Throughout the documentary we see at most two or three pictures of Pujol, although at times we see examples of the dispatches that he sent to the Abwerh. Although the interviews of Nigel West and the other talking heads are informative and necessary for the film, the death of the few who knew him during his years with British Intelligence has precluded the possibility of acquiring first-hand knowledge of this enigmatic character. Therefore, it is quite moving to watch the much older Pujol receiving the medal at the Buckingham Palace ceremony, talking with veterans of D-Day at the commemoration, and touring the beaches of Normandy and the gravesites of fallen soldiers in the cemeteries that are spread throughout the rolling hills of Normandy. My only quibble with this wonderful documentary is the inclusion of film clips from commercial movies such as Patton, The Longest Day, Our Man in Havana, The Secret Code, Mata Hari, and a few German movies, which create a bit of narrative confusion because they are so seamlessly interwoven with the archival footage that the audience needs to distinguish reality from fiction.
Garbo: The Spy does not portray Pujol as a hero nor his deeds as heroic. Rather it presents Pujol as an elusive and complicated figure who was instrumental to the Allied war effort. It was probably Winston Churchill who best captured the spirit of Pujol's life and feats as a double-agent when he said, "In wartime, truth is so precious that she should always be attended by a bodyguard of lies."
Alda Blanco teaches at San Diego State University. She writes about the intersection between gender and cultural production in modern and contemporary Spain.