Buckley's SCW classic republished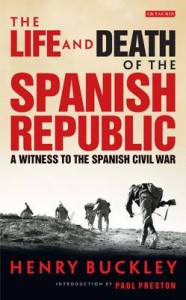 Alan Warren writes:
The Life and Death of the Spanish Republic by Henry Buckley is about to be published this April 30th by Tauris Publishing. This extraordinary book is a very rare find, since virtually the entire print run prior to distribution was destroyed during the London Blitz in 1940 and only a few review copies were circulated.
This is important news for those studying the Spanish Civil War. Buckley's is probably one of the finest and balanced appraisals of the Spanish Civil War and its reasons as well as the events that occurred during the War. Henry Buckley often accompanied Ernest Hemingway, Herbert Matthews and Robert Capa. Buckley served as the Daily Telegraph correspondent while in Spain and his reports in that newspaper are also of great interest.
For an appraisal of Henry Buckley see Chapter 10 of Paul Preston's excellent book on the foreign correspondents in Spain, We saw Spain Die.
Unfortunately, it seems that the photographs that Henry Buckley took during the War might not be published in this edition as was the original plan. However, the photos can be viewed at the blog of Carles Queralt, who organised the original Henry Buckley Exhibition in Sitges in October 2008. (The text is in Catalan.)
Finally, if you look at this Youtube video and the photos you may recognize Les Masies near Poblet, where the review of the International Brigades was held in front of Republican Prime Minister Negrín on October 25th 1938. The place is easily visitable. Les Masies starts at 17 seconds. See if you can spot Robert Capa (at 33 seconds in the film) in the photographs from Henry Buckley and then look for Henry Buckley in the film on the other side!