David Lomon (1918-2012)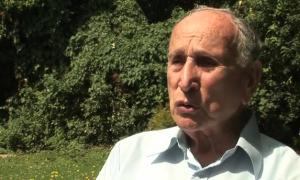 Our friends from the UK write:
We are sad to report the sudden death of David Lomon, the last known survivor in Britain of the more than 2,500 volunteers from the British Isles who joined the International Brigades. He died this morning (21 December 2012), aged 94, after being taken to hospital overnight.
David arrived in Spain in December 1937 and was captured by Italian troops in the following spring. He was repatriated in a prisoner-of-war exchange in October 1938.
In the past two years David attended several commemorative events in Britain and Spain. Last July he unveiled a new plaque beside the International Brigade memorial in London's Jubilee Gardens and in November he was the guest of honour in Madrid for the 76th anniversary of the battles to defend the city.
David Lomon's death leaves one British volunteer known to be alive: Stan Hilton, who is in a nursing home in Yarrawonga, Australia.