Hunger Strike Grows in Colombia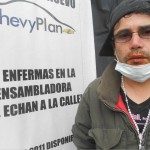 In Colombia, former workers for GM with various work-related injuries and disabilities have gone on a hunger strike, literally sewing their lips shut until their demands for the company are met. The strike has seen growth and received significant media coverage over recent days, beginning with four strikers on August 1st, and expanding to seven strong on the 8th, reports the North American Congress on Latin America. Writes NACLA, "these protestors say they are prepared to give their lives to defend Colombian workers from being treated as disposable by companies like GM." The strike is founded on the premis that GM Colmotores unfairly dismissed workers between 2008 and 2011 after they had developed injuries working on the company's assembly lines. While GM claims that the reason for these workers' dismissals are due to expired contracts or unruly behavior, the workers refute this reasoning. In addition, GM denies that the workers developed their physical injuries in the plant, claiming they were obtained elsewhere. NACLA also writes that "those who have been able to get their injuries certified as occupational have found themselves essentially blacklisted from employment due to having registered injuries. Those who now walk with canes or have other visible physical disabilities have had trouble finding work." Crucial to the situation is the way the United States is inculcated in it. According to NACLA, the US owns 32 percent of GM and has jurisdiction over the company. Before the hunger strike, protests were taking place in front of the US embassy in Colombia. The workers' demands for General Motors are the following (as written by NACLA):
1) Recognize their injuries as occupational.
2) Assume the costs of the corresponding medical treatment.
3) Pay pensions or disability to those who are so severely injured that they can no longer work or can only work part-time.
4) Compensate workers for the economic damage that they have suffered, including lost wages and lost homes.
Thus far, GM has not responded seriously to the workers' strike.
Click here to read the entire article.