In a Time of Crisis, Soccer Remains a Constant in Spain
While Spain continues to struggle economically, the country has one constant with which its citizens can be proud to identify: soccer. This was not always the case, however. In his new book, entitled La Roja: How Soccer Conquered Spain and How Spanish Soccer Conquered the World, writer Jimmy Burns explores the history of soccer in Spain from before Franco's dictatorial coup to the present.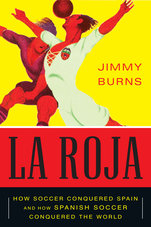 As Burns explained to the New York Times, "One of the themes of the book is to try and explain, exactly, why it took more than 40 years for Spain to achieve what it has achieved," as Spain is now a premier international soccer teams. The book also explores the political aspects of Spanish soccer, as the team that once went by the Franconian label of "La Furia Española" has, under the coaching of Luis Aragonés, converted to "Las Rojas," or "The Reds." Carrying immense political connotations, the current Spanish team is more than just a soccer club- it is symbol of freedom and integrity.