Yates and Hughes on SCW: Translated, reviewed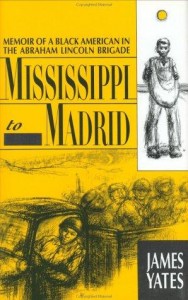 The Biblioteca Afro-Americana Madrid (BAAM), directed by Mireia Sentís, has just published Spanish translations of James Yates' Spanish Civil War memoir From Mississippi to Madrid and a collection of Spanish dispatches from Langston Hughes. Xavier Montanyà reviews both of them in La Vanguardia (pdf):
Both books are of great interest to experts of the Spanish Civil War as well as African-American culture and its liberation struggles. An excellent way to inaugurate this collection: two complementary points of view. One, from the soldier Yates, is that of the committed fighter who, from his native Mississippi, undertakes an arduous trip north–Chicago, New York–to escape racism. … To volunteer in the fight against fascism in Spain is, for him and his comrades, a logical continuation of that fight. … Langston Hughes zeroes in on the black Brigaders and Franco's Moorish troops. … His sketches of daily life in Spain are sharp and passionate …
Read the whole review here (in Spanish in pdf).