Tremlett Reviews Preston's "Spanish Holocaust"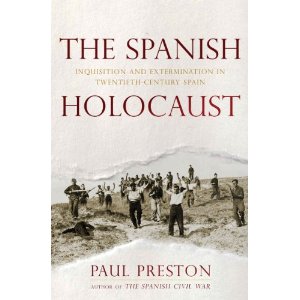 Giles Tremlett, correspondent of The Guardian in Madrid, and author of Ghosts of Spain, reviews Paul Preston's latest book about terrorism and its legacy in Franco's Spain.
"Franco had time to impose his own version of history, which still prevents contemporary Spain from "looking upon its recent violent past in an open and honest way", writes Preston. He is only too aware of the hysterical reaction to Garzon and those who break the taboo of interrogating the past. The fierce criticism of the truth-seekers is, he says, a long-term consequence of the brainwashing that turned many Spaniards into Francoists or, at least, adherents of what Spaniards call "sociological Francoism". "It lives on in the democratic Spain of today," Preston warns, just as "sociological communism exists in the countries of the old Soviet bloc." That is an uncomfortable thought for a country now facing its toughest period since the caudillo's death. But this is an invaluable book that does not shrink from even the harshest of truths."
Full review here.