Facing Fascism in Vacaville, California, for example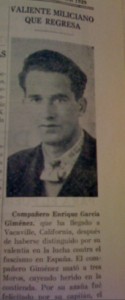 The 2007 museum show and catalog "Facing Fascism:  New York and the Spanish Civil War" broke new ground by focusing on the way individuals and communities in New York city responded to the outbreak, conduct, and outcome of the Spanish Civil War. And while New York was a particularly active site for all kinds of mobilizations centered on the war in Spain, the truth is that it would be possible to put together similar exhibitions and essay collections focusing on any number of towns and cities across the U.S; such was the keen interest generated by events in Spain between 1936 and 1939..
I've become especially interested in how fascism was faced in the towns and cities that in the first three decades of the twentieth century had become home to significant numbers of working class immigrants from Spain; unlikely places like Barre, Vermont, Donora, Pennsylvania, Spelter, West Virginia, or Vacaville, California.
On a recent trip to Vacaville, I had the privilege of speaking with Mike Muñoz, the grandson of Spanish immigrants who had left southern Spain to work on the sugar plantations of Hawaii, before re-emigrating to California and settling in the Vacaville area. A retired pile driver, union organizer and labor historian, Muñoz told Peter Carroll and me about a curious incident that I later found reported as follows in the June 10, 1937 edition of the  San José News:
Spanish War Film Seized by Police in Vacaville Raid

Vacaville, June 10 (AP)

Return of a print of the film, "Spain in Flames," and of a motion picture projector seized in a police raid on a show in a Vacaville hall was demanded today by spokesmen for Vaca Valley Spanish societies.

The societies announced that they would sponsor a meeting tonight to hear N. Pizarro,  Spanish consul from San Francisco, speak.

Chief of Police O.E. Alley, who with Mayor Edward Cox led the sortie, said he believed the meeting was inspired by Communists.  Four men were jailed on charges of giving a show without a license.  Their trials were set for June 17.