Luis Buñuel, chameleon: Revelations from the "Red Decade"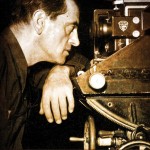 In the first days of January 1937, Joris Ivens passed through Paris on his way from New York to Spain to shoot what would become The Spanish Earth, the most successful of the many documentary films made during the war in Spain. At the top of the Dutchman's to-do list were appointments with Otto Katz and Luis Buñuel—crucial operators both, although they largely worked behind the scenes. Katz, aka André Simone, was a 41-year old Czech CP militant who worked as the right-hand man of Comintern public-relations czar Willi Münzenberg. Buñuel had been working for the Spanish embassy since September 1936 as coordinator of film propaganda for the Republic, which meant that practically every meter of footage shot in Republican Spain passed through his office. At his meeting with Buñuel—a cinematic summit between the 38-year old Dutch godfather of political documentary and the 36-year old Spanish godfather of surrealist cinema—Ivens signed a contract that gave the Spaniard not only the right to view all the material shot in Spain by Ivens and John Fernhout, his cameraman, but also to decide what sequences should be developed and sent to New York. Buñuel effectively became the film's first editor.
The Ivens story is only one of the many surprising pieces of information to be found in Luis Buñuel: The Red Years, 1929-1939, due to be published next month with the University of Wisconsin Press (read an excerpt here, purchase the book here). Other revelations include definite proof of Buñuel's Communist Party membership, the political intentions of Land without Bread, the nature of his propaganda work in Paris, and his role in the elusive Civil War compilations Espagne 1936 and Espagne 1937. A joint Spanish-British effort by film scholars Román Gubern and Paul Hammond, The Red Years (a revised English version of their 2009 Los años rojos) covers a crucial decade not only in the filmmaker's life but in the history of film and photography—as well as the history of Spain and the world. As they follow Buñuel from Madrid to Paris to the United States, the authors painstakingly connect the dots of an intricate, transnational network of friendships, alliances, conflicts, and projects. It's hard to imagine any future biography Buñuel surpassing Gubern and Hammond in exhaustiveness and virtuosity.
Buñuel, who spent the postwar years as an exile in Mexico, was the groundbreaking creator, with his friend Salvador Dalí, of the surrealist masterpieces Chien andalou (1929) and L'Âge d'or (1930), and directed more than thirty feature films including Los olvidados (1950) and Belle de Jour (1967). He was also an obsessive practical joker and poseur, notoriously difficult to pin down; he enjoyed nothing more than to goad his audience and hoodwink his interviewers, leaving a trail of scandal and confusion. Armed with decades' of archival research on both sides of the Atlantic, Gubern and Hammond manage to cut through the layers of legend and anecdote, revealing Buñuel as a key figure in the Republican public-relations effort during the Spanish Civil War and as a canny operator and propagandist whose decisions were driven as much by artistic and political convictions as by fear and, occasionally, opportunism.
"Buñuel was a consummate chameleon," Gubern said when I met with him in Portland, Oregon last February (video coming soon), "in aesthetic as much as political terms. In the 1920s, he was a surrealist; in the 1930s, a Communist and propagandist; during his postwar exile in Mexico he filmed commercial melodramas to make a living, while he also worked closely with American blacklisted filmmakers such as Hugo Butler. And in the 1960s and '70s, in France, he gave surrealism a new lease on life with films like The Discreet Charm of the Bourgeoisie and The Phantom of Liberty."
"Right below that chameleonic surface, however, lurked a deep unity of purpose. Buñuel's life is the story of a moral and political rebellion—a rebellion against the conservative culture of 1920s Spain, ruled by a reactionary monarchy and an immensely powerful, retrograde Catholic church. At first, surrealism provides Buñuel with the tools to rebel; and surrealism leads him to the Communist Party. But our book also shows that Buñuel was a man of flesh and blood, a human being with weaknesses who tried to survive in difficult times. I would not say he was an exemplary human being in moral or ethical terms. He was a physical coward—this is no criticism, I myself am one, too—and his first instinct was often to save his skin."
The author of some fifty books, Gubern is Spain's most prolific scholar of visual and mass media (film, television, comics). A kind of Catalan Marshall MacLuhan, he taught at the Autonomous University of Barcelona and has written films and documentaries. During several stays in the United States, Gubern met a number of Lincoln veterans. In 1969, together with Jaime Camino and Alvah Bessie (Lincoln vet and one of the Hollywood Ten), he made España otra vez, which tells the story of an American doctor who volunteered in the Spanish Civil War and returns years later to search for his Spanish lover. The film was a commercial flop but marked a milestone: "It was the first film produced in Franco´s Spain in which the Republican does not end up converting to the Nationalist cause."
Gubern (1934) was born into the Catalan bourgeoisie. He became involved in the anti-Francoist resistance in the 1950s as a college student; he joined the Communist Party, leaving it in 1968. As director of the Barcelona student film club, Gubern was the first in Franco´s Spain to screen Buñuel's controversial 1932 documentary Land without Bread. "I have to confess that the film threw me off," he remembers. "At that point I hadn't even seen Chien andalou. I knew of course that Buñuel was a cinematic giant, so I had high expectations—but in fact I was a bit disappointed, the film seemed strangely bland." Still, with the help of Basilio Martín Patino, the print that Gubern had secured was shown at film clubs throughout the country—"It was screened to shreds."
"Buñuel is one of the greatest filmmakers in the history of cinema, that's beyond discussion. He was the first to systematically introduce the subconscious as a dramatic element in movies. Without Buñuel, Hitchcock could not have made Psycho. Nothing in what we found denies Buñuel´s importance—but our book does invite the audience to re-read his work, and to reconsider his place in the twentieth-century history of ideas."
Sebastiaan Faber is Chair of ALBA's Board of Governors.