In the Archive: American Scientists' Gift to Republic
From News of Spain, November 9, 1938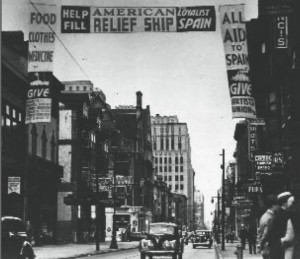 New Pellagra Cure to Madrid
Thirty-nine of America's leading scientists, incuding three Nobel Laureates and thirteen members of the National Academy of Sciences, joined last week in sending to pellagra victims in Madrid a special gift of twenty-five pounds of nicotinic acid, the newly discovered cure for the dread disease.
Accompanying the gift, which is on board the American Relief Ship now at sea with food and relief supplies for Republican Spain, was a message from the donors addressed to Dr. Juan Negrín, the Spanish Prime Minister who is also Professor of Physiology at the University of Madrid.
"It is hoped that this small shipment of nicotinic acid will aid in curing the thousands of cases of pellagra in your country," says the message of the donors, including Nobel laureates Dr. Albert Einstein, Dr. William Parry Murphy and Dr. Harold C. Urey.  "Only very minute amounts of this chemical are required for the relief of this age-old disease.  In fact the 270,000 doses in this twenty-six pound shipment are worth only a few hundred dollars –less than the cost of a single bomb that falls on Madrid…"
ALBA, 282, Serials, Box 10, Folder 1.