A Hemingway film and Picasso's Guernica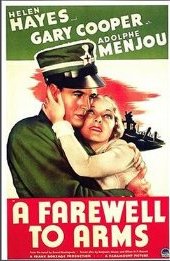 Under the heading "New theories about a 20th century icon" El País reports that José Luis Alcaine has found extremely interesting parallels between the film version of Hemingway's novel A Farewell to Arms, and Picasso's Guernica. Alcaine, a director of photography who has worked with Pedro Almodóvar and Victor Erice, summarises his conclusions in the Spanish magazine Cameraman (read here). A sequence in the film lasting several minutes shows airplanes attacking soldiers, and some civilians, as they advance along a road by night.
It seems a fair bet that Picasso knew this film, first shown in France in 1933, although I think Alcaine is wrong to assume that films ran for years on end. A quick sampling of the weekly cinema listing in La Semaine à Paris for the end of January 1937 comes up with Mr Deeds goes to town (1936), Mary Stuart (1936), My Man Godfrey (1936), A Tale of Two Cities (1935) and Mutiny on the Bounty (1935). Some of these films will actually have reached France the following year. The oldest film I spotted was the western In Old Santa Fe (1934), obviously far more commercial than the rather troubling A Farewell to Arms (1932), which was not being shown. (Readers, please add a comment below if you can trace a Paris screening of the film – the French title is L'Adieu aux armes – in April 1937.)
Actually, with his exceptional visual memory I don't think Picasso would have had to have seen this film often, or even recently, but I'd have thought this point was preliminary groundwork. That said, Alcaine has drawn attention to a terrific sequence in the movie. You can see it on YouTube and the relevant sequence begins at about 51', complete with planes bombing in the darkness, frightened horse, geese… You can compare your ideas with the contrasted images here. Not mentioned in the discussion, but no less interesting, is the explicit visual comparison between the bombings and Christ's crucifixion which comes before the sequence itself, and is very much in the spirit of the painting.
El País, and the other media I have seen, take the line that a movie, and not an event may have inspired Picasso's painting. Amazingly, none of them even mention the bombardment of the Málaga-Almería road in February 1937, when there were enormous civilian casualties among those who were desperately trying to get away from Málaga. (Alcaine himself does mention it, but the media prefer the Hollywood angle.) Of course, Picasso was born in Málaga and this particular event must have affected him greatly – at least, if we believe Arthur Koestler's testimony – so the film actually leads us straight back to the bombings.
If Picasso was directly influenced by the Málaga-Almería bombardments – and also, I myself believe, by the bombing of Madrid and its renewal in April 1937 (see my previous essays here and here) – then that, along with the attack on Guernica itself, shows how decisive the aerial bombardments of civilians were in shaping his emotional reactions to the war over an extended period.
Coincidentally – or maybe not – Hemingway himself was in Spain in late April 1937, and reporting on a related subject, i.e., the shelling of Madrid. I don't know if his articles were translated into French, but Picasso will have known from his friends what Hemingway was up to. Did it renew memories of the film that had he had seen, perhaps recently, perhaps some years before?