Leonora Carrington (1917-2011)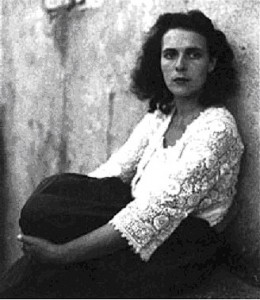 Leonora Carrington, the last living Surrealist, long-time friend of Spanish Republicans, and later wife of Robert Capa's friend Cziki Weiss, died in Mexico City this week. The Times has a long obituary:
Leonora Carrington, a British-born Surrealist and onetime romantic partner of Max Ernst whose paintings depicted women and half-human beasts floating in a dreamscape of images drawn from myth, folklore, religious ritual and the occult, died on Wednesday in Mexico City, where she lived. She was 94. Ms. Carrington, one of the last living links to the world of André Breton, Man Ray and Miró, was an art student when she encountered Ernst's work for the first time at the International Surrealism Exhibition in London in 1936. A year later she met him at a party. … Her interest in animal imagery, myth and occult symbolism deepened after she moved to Mexico and entered into a creative partnership with the émigré Spanish artist Remedios Varo.
More here.