Treasures from the Archives (1): Bernard Danchik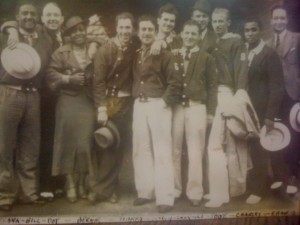 Today I had the pleasure of introducing the Spanish journalist, Anna Grau, to the treasures of the Abraham Lincoln Brigade Archives.  Together, we went through the scrapbook of Bernard Danchik, a young gymnast from Brooklyn, who lobbied for, and participated in, the Olimpiada Popular, an alternative anti-fascist sports competition organized in Barcelona in 1936, as a way of protesting and boycotting the official Olympics that were to take place in Hitler's Berlin.
These antifascist athletes arrived to Cataluña in mid-July, just before the outbreak of the Spanish Civil War, and witnessed some of the earliest skirmishes in Barcelona. Danchik's scrap-book, which contains captioned photographs, clippings and mementos, as well as a lengthy account of his journey, is a real treasure.
His collection includes his track uniform, as well as some correspondence he later received from friends who joined the Lincolns.
Danchik didn't return to Spain with the Lincolns, but another member of the US People's Olympiad team did:  Alfred "Chip" Chakin, who had been a wrestling coach at Cornell.  Chakin died in Spain. Anyone who has seen The Good Fight will remember the gut-wretching and life-affirming monologue delivered by Chakin's wife in that film.
Bernard N. Danchik collection, ALBA 33
Finding aid:
http://dlib.nyu.edu/findingaids/html/tamwag/danchik.html