Jack Edwards (1914-2011)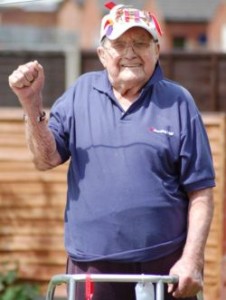 Jim Jump writes with sad news:
I'm sorry to have to report that Jack Edwards, veteran of the battles of Jarama, Teruel and the Ebro and a cheerful and loyal friend to many people in the IBMT, died this morning (26 January 2011) in hospital in Telford at the age of 97. Born in Liverpool on 3 January 1914 into a family of socialists, Jack worked as a motor mechanic after leaving school and, as a member of the Young Communist League, was on several occasions involved in clashes with Sir Oswald Mosley's fascist Blackshirts. He arrived in Spain in January 1937 and was with the British Battalion at Jarama in the following month, where he was wounded. He afterwards joined the 1st Transport Regiment and later the 129th Artillery Division, seeing action in Aragón and the Ebro. He returned home in January 1939. During the Second World War he served with the RAF from 1940-46. Jack attended our annual general meeting in Liverpool last October and unveiled the newly located plaque to the Liverpool volunteers in Jack Jones House. He was in recent years one of our most vocal and active veterans and, until the 2010 AGM, a member of the IBMT committee.
Writing in 2009 about his thoughts on the Spanish Civil War in Max Arthur's "The Real Band of Brothers", he said: "People think of it as a forgotten war, but it should be remembered, really, as a fight against fascism, for democracy; that's the main point of the war. It's becoming a forgotten war because it wasn't worldwide. It's only because people keep bringing it up now and again, but I'm surprised it's not taught in the schools – they should teach it out of respect for democracy. That would leave behind the legacy of the Brigaders – something that people could remember us for."
See here and here for pieces in the London Times on Edwards' receiving Spanish citizenship; see here for a video of Jack Edwards with Bob Doyle.