De la Iglesia's "Balada Triste" in Austin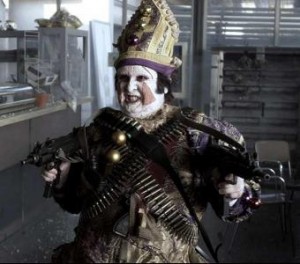 Marjorie Baumgarten sees the award-winning new film at FantasticFest:
Amid an epic love story, the film also functions as a parable about the Spanish Civil War and the Franco dictatorship, themes that are practically a subgenre of the Spanish cinema. Beginning in 1937, the film opens with a preamble as members of a circus are forced to join the Republican army in a battle against the National Front. The happy clown, in full regalia, is quite a sight as he mows down the opposing army with a machete. Relegated afterward to a work camp, the elder clown, certain of death, advises his son to become a sad clown. Years later, we find the young boy now grown and fulfilling his father's wishes as the new sad clown in a circus. He is beguiled by the lovely female acrobat, who is abused by her boyfriend, the circus' happy clown. The two clowns fight each other in one jealous rage after another. Visually florid, Balada Triste is a stunner of a film, one that looks something like a Velázquez painting run amok.
More here.