IB Monuments around the world (1)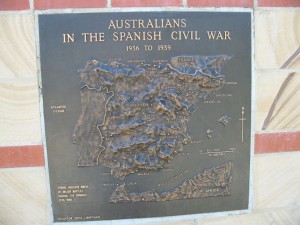 The first in a new series of posts highlighting monuments to the International Brigades worldwide. Canberra, Australia; S 35° 18.012 E 149° 07.201 (map). Inaugurated in 1993.  From Waymarking.com:
The memorial is a wall of sandstone blocks with red brick courses. …  The bronze map was made by Dr Ross Bastiaan who has placed a number of similar plaques in Australia and other countries commemorating Australian military endeavours. … There is another small plaque on the upper right of the wall in memory of the maker of the memorial, Netta Burns.
… The Australian Capital Territory government assisted … to place the monument by Lake Burley Griffin and it was unveiled in 1993 by Lloyd Edmunds, one of the last surviving Australian members of the International Brigades.
More monuments to follow. (Send tips or photos to me.)