Garzón defends universal jurisdiction and victims' rights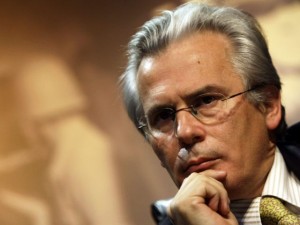 During a visit to a secret detention center in Argentina employed during the Junta years (1976-83), the Spanish investigative magistrate Baltasar Garzón–suspended for his attempt to open an investigation of crimes against humanity committed during the Franco dictatorship–took advantage to defend the principle of universal jurisdiction, which stipulates that any domestic courts may try foreigners for international crimes of unusual gravity regardless of where they were committed. As reported by Público, the judge was given an emotional tribute by Argentine human rights organizations. During the Franco years, Garzón said, the "law of silence, of impunity"  ruled; but the arrival of democracy was accompanied by "a permanent forgetting of the victims." "A country cannot be built on forgetting, on a lack of memory," he added. "The victims deserve an answer, and they deserve protection, which has to be granted them by Justice." More here (in Spanish). Writing for the AP, Bridget Huber reports:
Today, human rights trials are in full swing in Argentina and Chile, and many credit Garzon, who charged dozens of Argentine junta figures with crimes against humanity and issued an arrest warrant for Chilean dictator Gen. Augusto Pinochet. Garzon, who also has taken on al-Qaida terrorists, came to Buenos Aires to be honored at Friday's commemorations of the 1994 bombing of a Jewish community center that killed 85 people, and to join human rights leaders in another ceremony Thursday night inside the former Naval Mechanics School, which served as one of the most notorious torture and extermination centers during the dictatorship. Speaker after speaker thanked Garzon for showing Argentina the way at a time when amnesty laws protected former dictatorship figures from prosecution. "The wall of impunity began to crumble on the day that Baltasar Garzon ordered the arrest of some 40 oppressors," said Eduardo Duhalde, Argentina's human rights secretary. … "We want to repay the favor that Baltasar Garzon has done for us, by asking on the part of his people and on that of the Spaniards who live here, too, who want to recover their dead and give them a proper burial," said Estela de Carlotto, president of the Grandmothers of the Plaza de Mayo. Spaniards should be angered by the fact that Garzon's critics did not balk when he attempted to try crimes against humanity in the Americas, but are now trying to destroy his career because he turned his attention to crimes committed on their own soil, said Horacio Verbitsky, president of the Center for Legal and Social Studies, which was founded to document the crimes of Argentina's dictatorship. "We here, from the other side of the world, have the obligation to say that what is happening in Spain is shameful, and to express our solidarity with the Spanish people so that they, too, can demolish the walls of impunity," Verbitsky said.
More here.