Statue to Joris Ivens revealed in Paris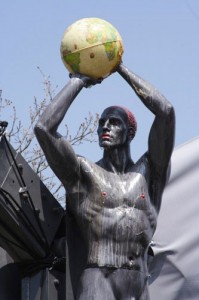 Yesterday the French Minister of Culture , Frederic Mitterrand, revealed a statue in honor of the Dutch documentary filmmaker Joris Ivens, whose The Spanish Earth (1937) is one of  the best known documentaries of the Spanish Civil War. The sculpture, 36 feet high, is the work of Irish artist Bryan McCormack. The Joris Ivens Foundation reports:
The image is in particular a tribute to the film Pour le Mistral (1966) on the wind, a recurring theme in Ivens` work, from his earliest film in 1929 until his last film Une Histoire de Vent (1988). The title of the artwork "When Joris Ivens meets Hraesvelgr" also refers to the wind giant from Norse mythology. In the top of the image is a classic picture of a naked man seen with a playful globe in his hand and two enormous moving wings on his back. The symbolism of the sculpture also seems to refere to the nickname of Ivens "The Flying Dutchman ", the mythical figure of the rebel ship`s captain who tart the winds and storms of all oceans and is doomed forever to sail.
More here.