Neugass memoir reviewed in Spain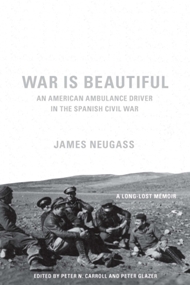 War is Beautiful, the compelling Civil-War memoir by James Neugass, Edward Barsky's driver, is being published in Spain this month. A review in El País:
El diario de aquellos días tiene un título siniestro: La guerra es bella. Una ironía dedicada a Filippo Tommaso Marinetti, fundador del futurismo y fan de Mussolini, que escribió: "La guerra es bella porque enriquece un prado florido con las llameantes orquídeas de las ametralladoras".
Bajo ese título se esconde un vibrante libro de memorias, que la editorial Papel de Liar pondrá a la venta este mes y que mereció los elogios de Antonio Muñoz Molina: "Nunca es condescendiente, nunca es narcisista y, a diferencia de otros testigos, no tiene intereses políticos o personales que ventilar. Como español cerré el libro con una sensación de gratitud".
More here. The US edition was reviewed in The Nation and the London Review of Books. Purchase a copy at Powells.