Mattson Honored in Home Town
Matti Mattson received a standing ovation after addressing the graduates of Fitchburg State College in his hometown in Massachusetts on January 29, 2010. College President Robert V. Antonucci presented the President's Medal to the veteran of the Abraham Lincoln Brigade before more than 200 new graduates, family, and community. The attentive audience heard Mattson recall his early days in Fitchburg, where he learned the printing trade that served him the rest of his life, and remember the three Fitchburg buddies who volunteered for the International Brigades with him.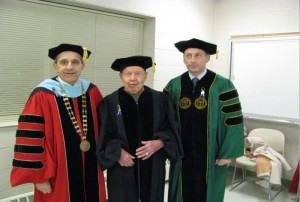 A voice called out from the bleachers, "And are you still a Red Sox fan?" Mattson voiced a strong "YES."
Mattson recalled the question he has been asked more than any other: "Why did you go to Spain?" His reply: "Why didn't more people go to Spain?"
Mattson went on to describe the world struggle against fascism in the 1930's, the progressive program of the elected government of Spain, and the failure of democratic countries to defend Spain. He called on students to make an effort to investigate the history of the International Brigades, because the full story is omitted from most curricula.
President Antonucci praised Mattson for his willingness to share his story, because it was "an inspiration to all of us."
Mattson was featured in The Fitchburg Pride weekly of January 29. In the interview, he described completing his training as an Army Air Force pilot during World War II only to be denied a commission, a part of the harassment of Lincoln veterans by the U.S.military. See www.fitchburgpride.com.
Responding to a suggestion that he wear the bright medallion on his approaching 94th birthday, Mattson remarked, "Why, I'll wear it every day in Brooklyn!"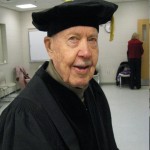 Mattson was joined by his daughter, Ilona Mattson, of Maine, nephew Robert Mattson, and the editor of the former Finnish newspaper Raivaaja, Jonathan Ratila. He was also joined by Bill Gilson, vice-president of NYC Chapter 34 of Veterans for Peace, of which Mattson is a honorary member (along with all other Lincoln veterans), and Georgia Wever, representing Activists Forever! Friends & Family of the Abraham Lincoln Brigade.
Further Browsing:
A mini-documentary on Matti Mattson
Soldiers of a Forgotten War: The Abraham Lincoln Brigade
Veterans for Peace Memorial Day Ceremony