Carl Fredrick Geiser
 (1910–2009)
Carl Geiser, a key political leader in the Abraham Lincoln Brigade and author of a pioneering book, Prisoners of the Good Fight, which included his own experiences during the Spanish Civil War, died November 28 in Corvallis, Oregon.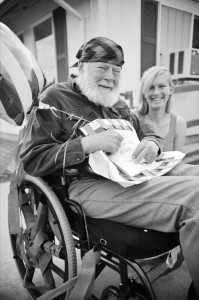 He was born in Orrville, Ohio, on December 10, 1910, the oldest of six children. His father, a farmer, died in the influenza epidemic at the end of World War I, and his mother a year later of tuberculosis. Carl received his primary education in a one-room schoolhouse while helping to tend the family's 16-acre farm. After high school, he enrolled in the YMCA School of Technology (later Fenn College, now Cleveland State University) in Cleveland, majoring in electrical engineering.
In 1932, Carl was part of the first National Student Federation mission to travel to the Soviet Union. This visit had a decisive influence on his political thinking. Impressed by the Soviet system and the tenets of socialism, Carl joined the Young Communist League and became an active force in the American Student Union, serving as a delegate to the First Student Congress Against War and Fascism. It was there that he met his future wife Sylvia, a teacher and organizer who shared his political fervor. They moved to New York, where they were absorbed into a dynamic culture of political activism and organizing. Carl wrote press releases and edited International Labor Defense bulletins, organized for the League against War and Fascism, and in 1936 was elected to the National Committee of the YCL.
In April 1937, Carl boarded the S.S. Georgia to join the International Brigades in defense of the Spanish Republic. He served as an ammunition carrier at Brunete, saw action at Quinto, and advanced to the rank of lieutenant. Following the battle of Belchite, Carl was promoted to Political Commissar and charged with the organization of a training school for commissars at Tarazona. Wounded at Fuentes de Ebro, he returned to the front as Commissar of the Mackenzie-Papineau battalion, but he was captured by fascist forces on April 1, 1938. Narrowly escaping execution in front of a firing squad, he was interned at San Pedro de Cardeña, along with over 650 International Brigades prisoners. Through the efforts of the Friends of the Abraham Lincoln Brigade and the U.S. State Department, Carl and a group of 71 Americans were released in April 1939.
Carl returned to New York City and secured an engineering position with a manufacturer of aeronautic equipment. Eventually he filed numerous patents for fuel gauges and, as a research director, supervised testing of a component used in the first lunar mission. He served briefly as president of Local 1227 of the United Electrical Radio and Machine Workers of America. Carl and Sylvia had two boys, Jim and Pete, before divorcing in 1946. With his second wife, Doris, he had three children, Linda, David and Gary. Carl studied psychology at Columbia University, graduating in 1963.
During the 1970s, Carl turned his attention once more to Spain and enrolled in a memoir-writing class. The essay he wrote on a Christmas concert held in San Pedro de Cardeña was published in The New York Times. Its positive reception provided the impetus for Carl's study of his POW experience.
With the assistance of fellow prisoner Robert Steck, Geiser amassed biographical information on the 120 Americans incarcerated in Spanish prisons. He also corresponded with over 150 veterans worldwide to solicit their reminiscences and traveled to archives in the United States and Europe to conduct research. Ring Lardner, Jr., and members of VALB, eager to see the project to fruition, provided financial support. Five years of research and writing culminated in the publication of Prisoners of the Good Fight in 1986.
Geiser moved with his daughter and family to Corvallis in 1993, where he became actively engaged in the Democratic Party, the Green Party, the Committees for Correspondence, and the social action committee of the Unitarian Fellowship, and was a frequent visitor to the Newman House. During this period he became concerned about environmental issues and wrote a number of articles entitled "As I See It," which were published in regional media. At the age of 93, "Perspectives and Resources: The Task My Generation Faced" was published in a special edition of Science and Society.
Carl will be fondly remembered for his appreciation of those around him, for his faith in education and respect for all people regardless of creed or origin, and for his commitment to a just and peaceful world. Memorial services are planned for spring 2010.
Further Browsing:
 Carl Geiser Papers at ALBA, Tamiment