Upcoming Events in December and January: Bruce Barthol & Art Shields
Howard Zinn Book Fair Features Bruce Barthol
On December 3, a 37-minute videorecording of a performance by the late Bruce Barthol will be featured at the Howard Zinn Book Fair—a project of the San Francisco City College (CCSF) Labor and Community Studies Department—at the CCSF Mission Center. Written and directed by Barthol along with Richard Bermack and Peter Glazer, the footage was originally produced and streamed during the 2022 ALBA annual event. Following the screening at the Zinn Fair, the audience will be invited to join a debate about preserving the legacy of activism and of the Veterans of the Abraham Lincoln Brigade. Musicians and performers include Bruce Barthol, Randy Craig, Tony Marcus, Barrett Nelson, Dave Rokeach, Rachel Steiner, Arthur Holden, Leila DeMoss, and Barry Levitan.
January Event on Art Shields, Labor Reporter & Activist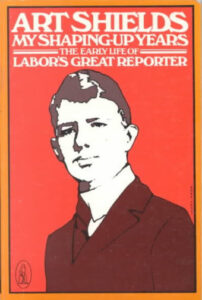 On January 25 at 4pm Eastern time, ALBA's Nancy Wallach and Josie Yurek, along with Richard Bermack, will host an online event on Art Shields (1888-1988), a labor reporter for the Daily Worker who was in Madrid in 1939 to cover the last stand of the Spanish Republic when he was arrested and jailed by the Franco forces.