Letter to the Editors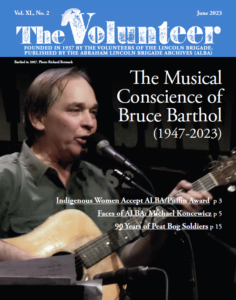 To the Editors:
I was so pleased to see Bruce Barthol on the cover of The Volunteer. I would see him at events in Rohnert Park at the home of Corine Thornton, who died just before her 100th birthday. The memorial lunch was the last time I saw Bruce.
Then, at the opening of the Mime Troupe play at Dolores Park in San Francisco—where I've been celebrating my birthday, which is July 4, for the past 40 years; the mime troupe is the best place to be on that patriotic holiday and Bruce always made it better with his rendition of the Star-Spangled Banner—I ran into Michael Sullivan and was able to tell him how much I appreciated his remembrance of Bruce. Thanks for publishing it!
Molly Martin
---
To the Editors:
Thank you for posting the information about Paul Robeson. My mother's first husband, Gilbert Taylor, was a member of the International Brigades and was at Tarazona / Albacete in January 1938. In a letter dated 27 January 1938 to my mother, he wrote:
"We had a grand surprise yesterday: Paul Robeson suddenly turned up, with Mrs. Paul Robeson and Charlotte Haldane! They arrived just before lunch, and at half past two the whole camp paraded in their honour, and then for just over an hour Paul Robeson gave us a concert in the Church. Goodness, it was lovely. You never heard such applause and enthusiasm. He just sang the songs as comrades called out the names: some Russian, some English, some American, and one in Spanish—also one or two in a Negro dialect. He made a short speech too, telling us why he was here and promising to use his voice for Spain when he got back to England. Charlotte Haldane spoke too and presented the English Bazaar by people who had contributed to the IB Fund. Unfortunately, the whole thing was such a surprise, and they left so soon that it was impossible to write anything for them to take back to you."
Paul Robeson's visit to Spain was certainly a great morale booster for those who were fortunate enough to hear him sing.
John Mehta