From Sacco & Vanzetti to Lorca: A Busy ALBA Summer
Sacco and Vanzetti: Film Screening and Discussion
Nicola Sacco and Bartolomeo Vanzetti—two Italian immigrant anarchists who were accused of a murder in 1920 and executed in Boston in 1927 after a notoriously prejudiced trial—are the subject of Sacco and Vanzetti, a documentary by ALBA board member Peter Miller that was screened and discussed at an online event on August 25. Moderated by Brandon West of the Democratic Socialists of America Fund, with special guest Ashik Siddique, a research analyst for the National Priorities Project, it's one of several ALBA events this year focusing on labor activism. For a recording of the discussion, visit ALBA's YouTube channel.
Lorca Event Celebrates Pride Month
On June 21, ALBA hosted an online event to celebrate Pride Month. Noël Valis, Professor of Spanish at Yale, spoke with Jeffrey Zamostny (University of West Georgia), about the Spanish poet Federico García Lorca, who was killed by the Nationalists in August 1936. Valis's latest book, Lorca After Life, reflects on Lorca's posthumous fame. A recording of the event, which was co-sponsored by the University of West Georgia School of the Arts, and Yale's Women's Gender, and Sexuality Studies and Department of Spanish and Portuguese, can be viewed on ALBA's YouTube channel.
Watt Competition Draws Interest
This year's competition for ALBA's George Watt Award drew a higher-than-usual number of submissions, with 54 essays across all categories. "The rise in submissions is due largely to the hard work of Dennis Meaney, ALBA's Executive Assistant," said Aaron Retish, the chair of the jury.
Bay Area Plaque for Nate and Corine Thornton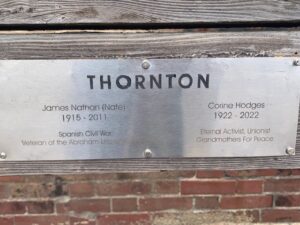 Lincoln vet Nate Thornton and his life partner, Bay Area activist Corine Thornton, have been memorialized on a bench below the Golden Gate in San Francisco. There are now 12 plaques on four benches to honor the union activists of the "Fort Point Gang," including Bill Bailey, another Lincoln vet.
Nancy Wallach Speaks for ALBA
ALBA Board member Nancy Wallach, daughter of Lincoln vet Hy Wallach, recently represented ALBA on two occasions. She spoke at the annual commemoration of the International Brigades in London, on July 1, 2023, and at the celebration of the 125th anniversary of Paul Robeson's death at the Eblana Club in Dun Laoghaire, Ireland (see her report here). See the video and read the full text of her London address below.
Address to IBMT at Jubilee Gardens, July 1st 2023
By Nancy Wallach
It is a great honor to join you today, and to bring you greetings from ALBA, the Abraham Lincoln Brigade Archives.  Now, more than ever, in these times, the work that we do as sister organizations is needed, the important task of recovering and disseminating the neglected history of the International Brigades, so that new generations can use their example and their lessons to continue to struggle and resist.
When people learn of these international Volunteers, thanks to your work, and through events such as this very one today, they are invariably inspired by their legacy of anti-fascist unity and unprecedented working class solidarity.  I'd like to share with you the effect they had on one member of the next generation, the film maker John Sayles. Many of you may know his films, such as Matewan, Eight Men Out, Passion Fish, The Secret  of Roan Innish, Lone Star, The Brother From Another Planet and The Return of the Secaucus Seven.
Sayles was the keynote speaker at the fiftieth anniversary of the Abraham Lincoln Brigade, during the Reagan/Thatcher era, an era when greed and self interest were extolled as top virtues and the catchphrase "Greed is Good" prevailed.  His address was entitled "But What About the Guys in the Lincoln Brigade?," but it applies equally to the British Battalion, the Connolly Column, the Garibaldi's, the Thaelman Battallion, the Edgar André battalion and each and every one of the battalions in the International Brigades.
Sayles said:
One of the major obstacles in the way of human progress, of human understanding, is cynicism.  The cynicism that states that people only act in their own self interest or what they believe to be their self interest, that says within every seemingly altruistic act there lurks a dark core of greed or hatred or fear.  To make people behave, the cynics say, to make society work, you have to know how to exploit and manipulate that dark core.  That's life, the cynics say, that's just the way people are.  And you can listen to this for awhile, and maybe agree up to a point, but then you say,  "What About the Guys in the Lincoln Brigade?"

Then the cynics will go to work and talk about raw youth and misplaced idealism and what this faction did to that faction.  But they won't go away, those guys who shipped out for Spain to fight for other people's freedom, they stand up in history like the one tree on a battlefield not levelled by the bombing, stand up and make you ask, "How did that happen?"  They won't go away.  If you talk to them or read their accounts what you hear again and again is that they went to Spain because of a belief in what people could be, in how people could live together, and they put their lives on the line for that belief and a lot of them died.

"But they lost," say the cynics, not knowing that it is more important that they fought- fought when they didn't have to fight, fought when it brought no public glory in their home towns, fought to put a lie to the cynicism that keeps people in darkness.  They won't go away…And in a world run by cynics, in a time when caring about someone you've never met is seen as weakness or treachery, how much strength have we taken from the thought of them, how much pride and comfort to be able to say, "But What About the Guys in the International Brigades?,"
Let us resolve to continue our work, so that there may be many more generations of people like John Sayles out there, taking heart and inspiration from the example of the International Brigades.
¡La lucha continúa!