The History and Mystery of a Photograph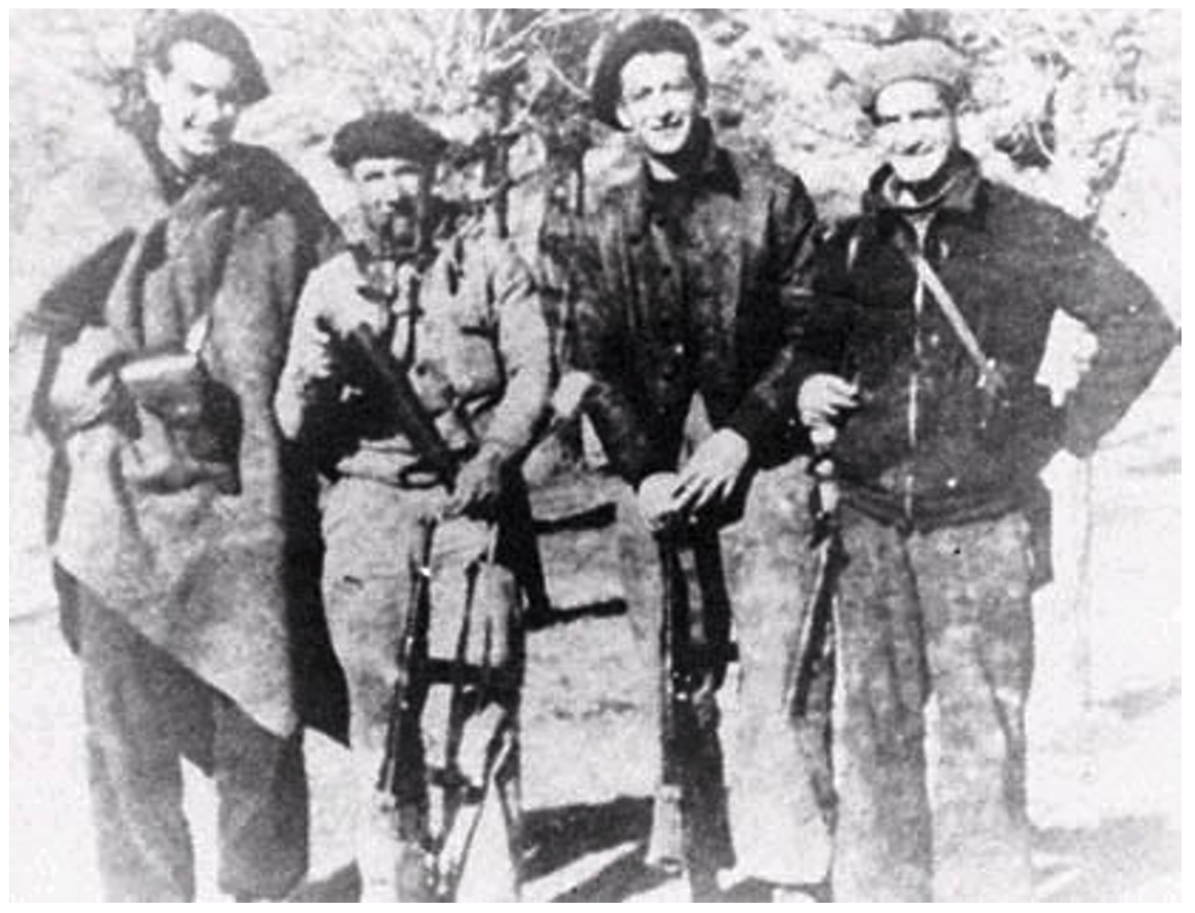 This photograph of Lincoln brigaders Bill Aalto, Alex Kunslich and Irv Goff, with a Spanish comrade, depicts something rare, possibly unique. But unfortunately, all physical copies of it are lost—or, at least, their whereabouts are unknown.
Aalto, Goff and Kunslich were three of only a handful of Lincolns recruited to operate as part of the Republican guerrilla forces behind enemy lines during the war of 1936-39 in Spain. These forces were engaged in demolitions and sabotage work and came to be integrated—Spaniards and internationals alike—as a single corps of the Republican army. While we do have a few other photographs of international volunteers who fought with the Republican guerrilla forces (e.g., those from Finland or south-east Europe), we know of no other group shots of Lincoln brigaders who formed part of these forces.
We only know of this photograph at all because it appeared in the memoirs of Lincoln vet Milt Felsen, entitled The Anti Warrior, and published in 1989 by the University of Iowa Press (UIP). But no photo credits are given in the book and UIP have nothing in their records indicating photo rights/permissions for the image. This strongly suggests that this was a photograph from Milt Felsen's personal collection. Yet the photograph was not among the materials of Felsen's donated to the ALBA archive after his death. Nor is it to be found among papers or documentation related to Irv Goff, Bill Aalto, or Alex Kunslich, whether in the ALBA holdings or anywhere else. Nor, as far as we're aware, does any family member of the three have it in their possession. Felsen himself did not fight with the guerrilla forces in Spain; he was a "regular" brigader and later drove an ambulance.
Still, from Felsen's memoirs we know that he met Irv Goff and Bill Aalto once in Spain, during a period of leave in Barcelona, in, as he recalls with idiosyncratic dry humour, "the only orthodox, black-market, kosher restaurant in all Spain and maybe in all Europe." Felsen doesn't date that encounter, but from what he describes it was in summer 1938, after both Goff and Aalto had narrowly escaped with their lives when participating in a daring guerrilla commando raid which had released some 300 soldier-prisoners of Franco's held in a beach fortress on the southern coast of Spain.
How did Felsen come to have a copy of the photograph? We surmise either because he was given it during the café meet-up, or else soon after in the US. During World War II, Goff and Felsen renewed their contact when they were among the Lincolns who volunteered for the US irregular forces (OSS), parachuting into occupied Europe to liaise with the Resistance—some of whom had of course been leading international volunteers in Spain. But what happened to the photograph after publication of The Anti Warrior in 1989 remains a mystery. (The version that appears online among the Lincoln volunteer biographies is a low-resolution scan of the image from Felsen's memoirs.)
If anyone reading this has any information about the photograph, please let us know. Or if anyone is in contact with Milt Felsen's family or stepchildren, please help us to contact them (info@alba-valb.org), so we can continue the search. The photograph would be a significant and enriching addition to the historical documentation on the Lincolns conserved in the ALBA archive – if we can find it.