Join ALBA's Book Club!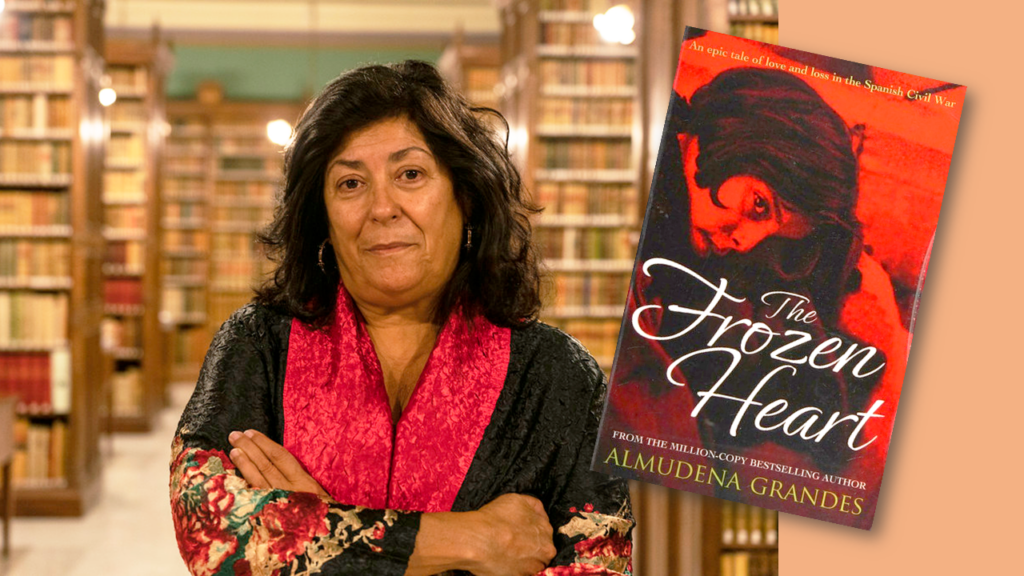 "Books join us together as a global reading community, but more important, a global human community striving to learn from the past." In the spirit of these words by New York Times bestselling author Ruta Sepetys, I invite you to join us as we examine fiction and nonfiction about Spain and its historical legacy of Francoism, fascism and the Second Republic. This fall, we'll be reading Almudena Grandes' novel The Frozen Heart. We began our discussions on the FFALB Facebook Pages, but after requests that it not be limited to Facebook members, our two most recent sessions were live on Zoom and open to everyone.  They were attended in real time by people from Australia, Canada, Spain, and England, as well as both the East and West Coasts of the USA. To learn more about how you can take part in our discussions, please email bookclub@alba-valb.org.
In the midst of the Right's attempt to ban books from both libraries and schools, the educational value of book clubs such as ours is more important than ever, as we seek to open our ears to the voices of authors and historical figures who write about this neglected part of our history, and of world history. Some of the books in our past discussions included A Long Petal of the Sea by Isabel Allende, The Return by Victoria Hislop, In Place of Splendor by Constancia de la Mora, the book that was beloved and read by almost every returning Lincoln Vet, and Claddagh Finn's A Time to Risk All: The Untold Story of Mary Elmes, The Irish Woman Who Saved Children From Nazi Concentration Camps. Elmes was a humanitarian aid worker in Spain and later volunteered in the French camps which detained Spanish refugees.
Our most recent selection was The Scalpel, The Sword: The Story of Dr. Norman Bethune by Ted Allan and Sydney Gordon. The authors include extensive material in Bethune's own words from his diaries, letters, speeches, and articles. While Bethune is perhaps best known for his innovations in the use of mobile blood transfusions on the battlefields of both Spain and China, he wrote on a wide range of subjects. His diary of the fascist bombing of deliberately targeted civilians of Malaga on their flight to Almeria exposes the brutal nature of fascism. "They weren't interested in the port," he records, "they were interested in human prey." He further makes the point that "Franco and his fascist backers urgently need a tool to conceal their aggression. They have found one, to their mutual relief.  It is the menace of communism… The attempt to paint the invasion of Spain as a crusade to 'save Spain from the Communist menace' is not only a wretched lie, it is a calculated and vicious insanity. Let us have done then, with the miserable deception of anti-communism.  It has served Hitler and Mussolini well, but not the enslaved German and Italian peoples. Anti-communism is the great lie of our decade…That is one of the great lessons of Spain.  I hope we will never forget it.  Spain can one day be the tomb of fascism."
One of the earliest advocates for public health plans, Bethune had much to say about issues which still engage us today. He opines that "The practice of each individual citizen purchasing his own medical care does not work. It is unjust, inefficient, wasteful and completely outmoded…It should have died a natural death a hundred years ago… The protection of public health should be recognized as the primary obligation of a government to its citizens." The last sentence is particularly resonant as the Covid pandemic continues.
Please help us keep these ideas flowing and join our discussions. These books are some of the best means of understanding and restoring our history to inspire new generations. Learn more at bookclub@alba-valb.org.
Nancy Wallach, daughter of ALB Veteran Hy Wallach, is a member of ALBA's Executive Committee, and moderates the FFALB Facebook Book Club.