ALBA Alumni Spread the Word (in Virginia and Wisconsin)
More than 90 percent of the teachers who participate in ALBA's teaching institutes report that they use ALBA's materials in their work. Two testimonials from participants in our most recent five-week workshop.
---
Bringing Spanish History into the College History Classroom
By Tyler Goldberger
On March 10, 1945, President Franklin Roosevelt wrote to the United States Ambassador to Spain, Norman Armour. "Most certainly," he said, "we do not forget Spain's official position with and assistance to our Axis enemies… These memories cannot be wiped out by actions more favorable to us now that we are about to achieve our goal of complete victory over those enemies of ours with whom the present Spanish regime identified itself in the past…." Thirty-five years later, in the wake of dictator Francisco Franco's death, President Richard Nixon, who had resigned the year before, described the fallen leader as a "loyal friend and ally of the United States."
How did the United States transition from diplomatic opposition of Spain's post-civil war state to embracing the legacy of a fascist dictator? What does this say about the United States' ability to excuse fascism for anti-communist considerations?
ALBA's teacher workshop, "America and World Fascism: Human Rights from the Spanish Civil War to Nuremberg and Beyond," encouraged participants like me to consider and contemplate these questions, also considering the importance of the memories and legacies of the Spanish Civil War on the world stage. For five weeks, we engaged with primary sources surrounding the motivations of the Abraham Lincoln Brigades to go to Spain to fight against fascism, various media from the Spanish Civil War that claimed to capture the horrors of the war, and testimonies of anti-fascist activists threatened by the House Un-American Activities Committee (HUAC) and Subversive Activities Control Board (SACB). The workshop allowed me to gain a much broader knowledge base of various interpretations of this past within Spain and the United States. Not only did the course supply specific documents to illustrate the complexities regarding definitions of fascism and anti-fascism—as well as a multitude of motivations to support anti-fascism—but it also offered troves of primary-source repositories to support the participants' design of a unique lesson plan to promote their students' engagement with an event rarely spoken about in traditional United States history courses.
The course allowed me to create and implement a lesson on the Spanish Civil War and US-Spain foreign relations for my upper-level undergraduate course at William & Mary during the Spring 2022 semester. My course on World War II originally did not cover Spain as a case study, but working with Dr. Sebastiaan Faber and Dr. Peter Carroll opened my eyes to the importance of the rhetoric of fascism, anti-fascism, and human rights rooted in the Spanish Civil War. As I crafted a lesson that encouraged my students to critically think about the transforming United States-Spain relations during the Cold War era, I used the primary sources introduced to me through workshop—including letters from Canute Frankson comparing fascism abroad to anti-Black racism domestically, and from Hyman Katz comparing Hitler's treatment of the Jewish people in Nazi Germany to that of Republicans in Spain—and other primary sources I found through my own research, including a report published by the Veterans of the Abraham Lincoln Brigades in 1958 entitled "Spain in Chains" and the "Generalísimo Franco is Still Dead!" segments from the first season of NBC Saturday Night's.
For this lesson, I divided my students up into groups and gave each one primary source to teach to the rest of the class. We discussed ethical values that make people stand up for what they believe in, the increased fear of communism that drove previously strained US-Spain diplomacy in the immediate post-World War II period to unite over similar causes of anti-communism, and the continued human rights violations that happened in Spain while the United States aligned itself with Spain as a strategic ally. We also emphasized how the act of narrating the history of US-Spain relations demonstrates aspects of remembering and forgetting. The typical narrative of Spain in the United States, for example, tends to end in 1898 with the United States' victory in the Spanish-American War. Yet this erasure of Spain from the historical record hides the Spanish Civil War and its legacies throughout the majority of the twentieth century. As global citizens, we must consider a variety of interpretations of the past, not just privileged narratives, to guide our present and future understanding.
My experience in the five-week ALBA workshop strengthened my work as a scholar and pedagogical principles as an educator. I had the unique ability to learn from and alongside experts of the Spanish Civil War and US-Spain foreign relations following Franco's victory over the Republican government. I also conversed and engaged with top-tier secondary school educators and human rights activists from around the United States, highlighting the important lessons we can glean regarding the fight for anti-fascism not just inside our classrooms, but also in and around the world.
Tyler J. Goldberger is a History PhD candidate and Teaching Fellow at William & Mary. His work explores U.S.-Spain relations in the 20th century, historical memory after civil wars and conflicts, human rights, and transnationalism. 
---
Teaching the Spanish Civil War in Peoria
By Reid Palmer
Armed with my Mexicanski Mosin-Nagant, wearing alpargatas, an M26 cartridge belt, and a uniform typical of the Ejército Popular de la República (EPR), I prepared myself for the worst. In early June 2022, I volunteered to represent a member of the Abraham Lincoln Battalion at the annual "WWII Comes Alive" weekend held in Peoria, Illinois. I wanted to share what I had learned in ALBA's Teaching Institute course, "America and World Fascism." Watching the first visitors approach our "Spain at War: 1936-1945" display, my excitement was tinged with nervousness. In today's current political climate, how would people respond to our display? Was it even safe to be dressed as a Communist volunteer from the Spanish Civil War?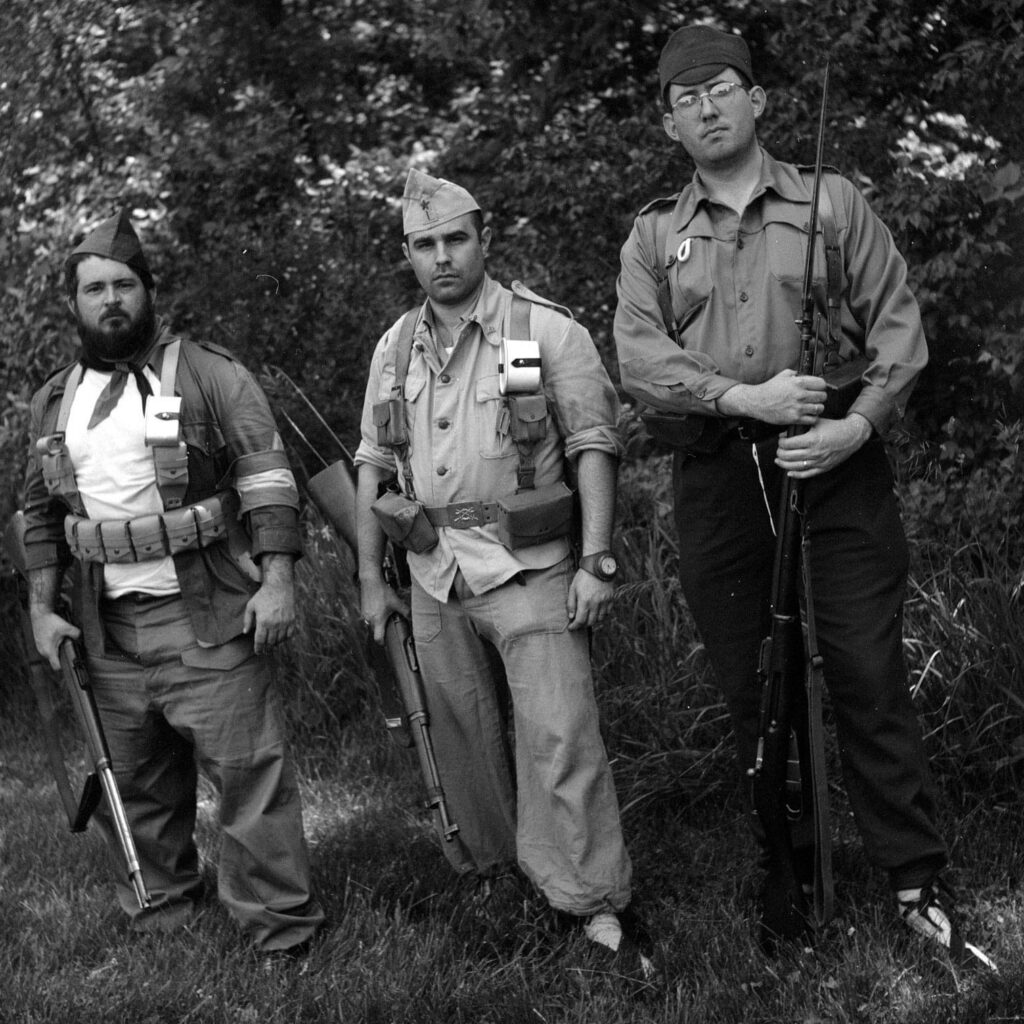 I could not have dreamed of a more positive response. By the end of the weekend, Mike, a History PhD student at Kansas State University, Kevin, a former Marine Corps combat veteran, and I had talked with well over 500 members of the public. We discussed the history of the Spanish Civil War by interpreting a mix of original and reproduction uniforms, equipment, weapons, personal items, propaganda, letters, and newspapers (many of which I had reproduced based on the resources provided in the "America and World Fascism" course). People were genuinely curious to learn about the Spanish Civil War and excited to engage about a conflict too often treated as a footnote of the Second World War. While most had heard of the Spanish Civil War, few knew even the basic details and were excited to learn about the American volunteers who fought to defend the Spanish Republic. One woman even approached me privately to thank me for making people think about the devastation and horror that all civil wars inflict on those involved.
To me, my experience in Peoria proved the benefit and importance of Spanish Civil War living history events. While many people were drawn in by the weapons, equipment, and propaganda we displayed, a surprising number of people stuck around to ask more questions about the Lincolns, the Anarchist militias, the Moroccans who fought for Franco, the EPR, the Regulares, the Carlists, the Requetés, the Blue Division, and La Nueve. Using the techniques I workshopped in the Teaching Institute, I was able to adjust my presentation for different age ranges and knowledge levels. In my eight years participating in American and British WWII living history events, no members of the public had ever asked me for book recommendations—yet several people in Peoria asked for further reading (we suggested Peter Carroll's Odyssey of the Abraham Lincoln Brigade). I was incredibly proud that we were able to spark such curiosity in so many people.
Reid Palmer works as a Living Historian for the Calvin H. Coolidge Medal of Honor Heritage Center and a Technical Writer for a medical device company. He also writes and produces short videos about the lived experience of twentieth-century wars on his website TheSmileyGI.com. In 2012, he won ALBA's George Watt Award in the undergraduate category.