Books in Brief: Jim Higgins' War
There are moments when books arrive far faster than the editor can find reviewers for them. As a result, The Volunteer has decided to inform its readers of these works and, in turn, portray the breadth and depth of new work in the ever-growing corpus about the Spanish Civil War and the people who fought in it. We offer these short reviews, more than announcement but not quite as in-depth as longer reviews, to acknowledge the on-going legacy of and interest in the Spanish Civil War.
—Joshua Goode, Book Review Editor
Jim Higgins (with Janette Higgins), Fighting for Democracy: The True Story of Jim Higgins (1907-1982). Victoria, B.C.: Friesen Press, 2020. 196pp.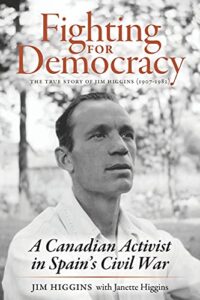 Is it promising, confusing or brave for a memoirist to open his work with him staring at a painting entitled Unknown, and commenting: "…I even saw something of myself in it?" Without giving much away, the anecdote, whether intentional or not, proves to be ironic. This memoir, written by Jim Higgins and compiled and edited by his daughter, stands out for how much it reveals not just about Higgins, a volunteer who fought in the Canadian Mackenzie-Papineau Battalion, but about the story of so many who volunteered to fight in Spain during the Civil War. Higgins began drafting his memoir at the behest of his children after he had already turned 70. Yet, the manuscript lay unpublished when he died in 1982. Janette Higgins, the author's daughter, has carefully, transparently, and responsibly reassembled, edited and presented it as a testament to her father. The memoir provides a gripping version of a life deeply marked by the Depression, the turn that led to fighting in Spain, and then the post-Civil War experiences of family, politics, organizing, trauma and joy that defined Jim Higgins. In many ways, Higgins's story is reminiscent of other volunteers' experiences. But he had some fame in his later years, too. He was well-known in Canada from the story of saving the life of a nine-year Spanish boy whom he had pulled from the raging Ebro River during the 1938 battle. Higgins was famously reacquainted with that boy, Manuel Alvarez, now a middle-aged man in 1978, who had by chance become a resident and citizen of Canada. Alvarez's own book about his life and his rediscovery of Higgins, The Tall Soldier, and the promotional tour brought Jim Higgins into the spotlight. Yet, most interesting is the fact that in Higgins's telling, this act of heroism was just one small detail in a long list of wartime experiences. Overall, this juxtaposition of great and small is balanced with the overall poignancy of the story of the daughter's devotion to reassemble her father's life. In the end, it is the depth and range of this portrait of a man who, after the war, gardened, painted, worked in a factory, kept secrets, fought for worker's rights and built a life for himself and his family that most mark this book.