"Life After Hate" Wins ALBA/Puffin Award
On January 6, the one-year anniversary of the assault on the Capitol, ALBA announced that the 2022 ALBA/Puffin Award for Human Rights Activism will go to the organization Life After Hate (LAH) (Press Release). Founded in 2011, LAH helps people leave violent far-right and white supremacist groups to connect with humanity and lead compassionate lives. LAH will receive the award at ALBA's annual gala on April 30.
"Right-wing extremist groups have deeply embedded in our country and our culture," said Kate Doyle, chair of ALBA's Human Rights Committee. "There couldn't be a better time for ALBA to recognize the tremendous work of Life After Hate." "Their work has never been more valuable and more needed," added Neal Rosenstein, President of The Puffin Foundation. "But the success of LAH's research and interventions shows that we can overcome hate."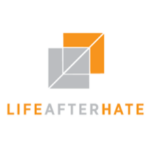 "As the first nonprofit in the U.S. dedicated to helping individuals disengage from violent far-right hate groups and hateful online spaces, we know that direct interventions, one person at a time, can produce substantial ripple effects including the prevention of hate crime and domestic terrorism," said Kristine Dugan of LAH. "ALBA's generous award will help us expand the scale and effectiveness of our program."
The ALBA/Puffin Award for Human Rights Activism is an initiative to sustain the legacy of the experiences, aspirations, and idealism of the Abraham Lincoln Brigade. It supports contemporary international activists and human rights causes. A philanthropist and visionary, the late Perry Rosenstein created and established an endowed fund for this award in 2010.