ALBA Workshops for Everyone Spark Broad Interest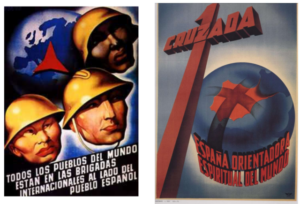 A new slate of "workshops for everyone" offered as part of the new Perry Rosenstein Cultural Series (PRCS) has drawn broad interest from the ALBA community. Modeled on ALBA's institutes for teachers but open to the general public, the 1.5-hour PRCS workshops are led by two experts who provide participants with reading and viewing materials in advance and then lead a lively, interactive discussion.
The fall calendar included two workshops: one on Hemingway and the Lincoln Brigade (with Peter Carroll), and one on the posters and print culture of the Spanish Civil War (with NYU's Jordana Mendelson). The interest proved so strong, however, that two additional workshops on the same topics were added, for a total of four. This winter and spring, ALBA will be offering additional PRCS workshops on Spanish immigrants in the US and the Spanish Civil War; Spain and the Holocaust; Women and the Spanish Civil War; and Poetry and Fiction of the Spanish Civil War. Check out ALBA's website for details.