Book Review: Paul Robeson's Story for Children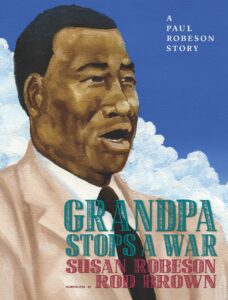 Grandpa Stops A War: A Paul Robeson Story, by Susan Robeson. Illustrated by Rod Brown. New York: Seven Stories Press, 2020. 48 pp.
In this illustrated book aimed at children, Susan Robeson, old enough to be a grandmother herself and ever the granddaughter of Paul Robeson, the most celebrated anti-fascist of his time, tells the remarkable story of the singer's visit to the front lines to entertain and inspire Loyalist and US brigadistas during the Spanish Civil War.
The book is based on a family story, most of it true, about the elder Robeson's commitment to the Spanish Republic, his efforts to raise funds for humanitarian aid for civilians, especially children, and his decision to visit the embattled country to offer his moral support as well.
Besides the straightforward story line, the author offers excellent background notes about the Spanish Civil War and its international context as well as Robeson's biographical narrative.
The prose is clear, clean, and bound to raise questions among young readers about war and peace. Only the title is a bit slippery. Although Robeson did sing in open air to soldiers at rest, it's not clear the other side stopped to listen. But if that's what Susan learned as a girl, let's leave it at that.