Restoration of San Francisco Monument Nears Completion; Inauguration Planned for May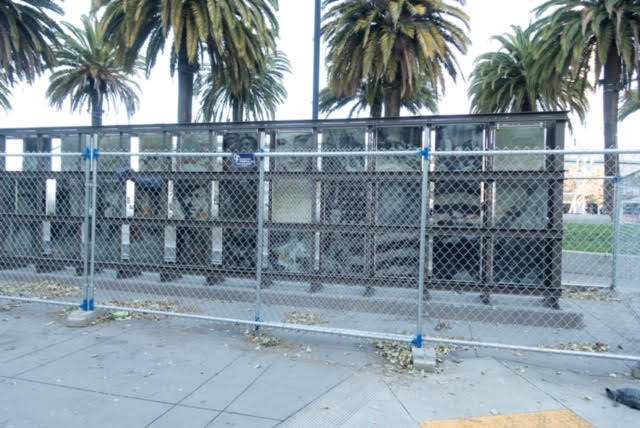 After more than a year of work, the restoration of the largest United States monument dedicated to the volunteers who fought fascism in Spain, at the end of San Francisco's Market Street, across the Embarcadero from the Ferry Building, is nearing completion. Designed by Walter Hood and Ann Chamberlain, the monument consists of 44 translucent panels displayed in three rows in a large steel frame. The panels are printed on both sides with texts and photographs. It was inaugurated in 2008 to great public enthusiasm, with speeches by several surviving Lincoln veterans and then-mayor, now governor, Gavin Newsom (see the video of the inauguration here).
The restoration of the monument coincides with a revitalization of ALBA activities in the Bay Area. Executive Director Mark Wallem traveled to San Francisco this fall to attend a meeting with a group of longtime Lincoln Brigade supporters, including Judith Montell, Adam Hochschild, Peter Glazer, Richard Bermack, and others. In addition to a rededication ceremony for the monument this spring, tentatively set for May 3, the group is planning additional programming as well.